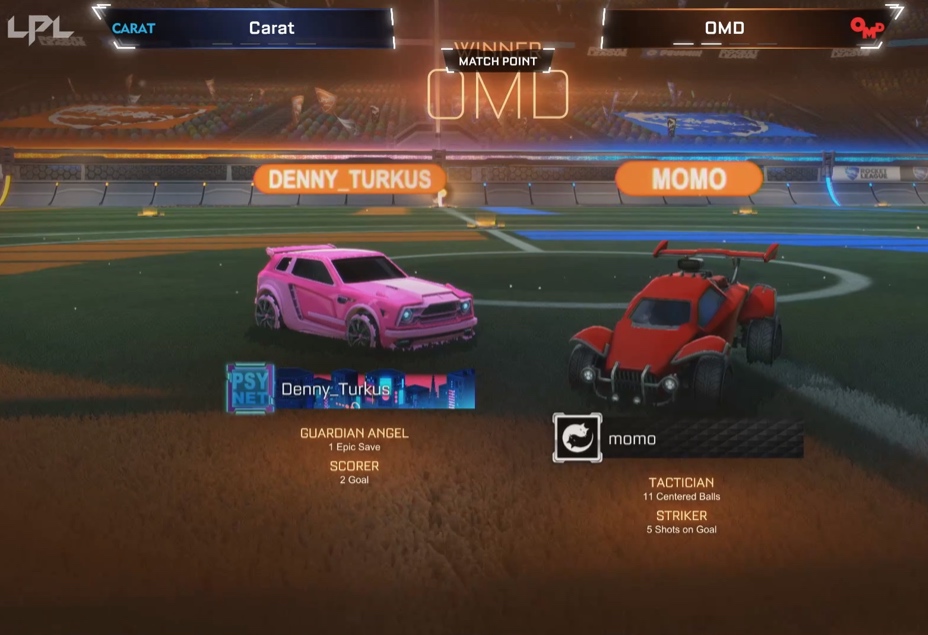 (OMD winning team 'Denny Turkus' and 'Momo')
UnLtd's Big Game, our industry's first virtual gaming tournament, has raised over $56,000 for children and young people at risk with OMD taking home the inaugural trophy.
The tournament, sponsored by Twitch and supported by LetsPlay.Live and eGen, saw 24 teams across the industry go head to head in a game of Rocket League over five weeks.
The semi-final and Grand Final was played live on Twitch on 2 June. The first semi-final was a mouthwatering battle of Omnicom agencies with OMD beating sister agency PHD. The second semi-final saw Carat beat Quantcast in a tight game with strong performance from 'Jimbae' and 'Quadzilla'.
The final between Carat and OMD brought together two of the tournament's greatest players – Carat's 'Jimbae' (Zac Kelly) and OMD's 'Momo' (Jacky Mo) – in an epic match of the agencies.
Carat played a strong game but OMD dominated the final with 'Momo' scoring the first goal in the first three seconds and the OMD goals just kept on coming until the final seconds thanks to the great team work of 'Denny Turkus' (Thomas McGlynn) and 'Momo'.
Says Thomas McGlynn from winning OMD team: "We want to say a big thank you to Big Game and UnLtd for hosting the tournament, as well as Max Vonneumann (@formalcasting) for doing such a stellar job at casting each game and keeping up the hype. We loved having the opportunity to interact across our industry outside of our normal ways of working, and the fact we came out on top amongst some fierce competition was a great bonus. Whilst we love being the official gaming champions of our industry, the real winners are the kids that will be helped thanks to everyone who took part. We hope to do this all again next year!"
The winning team receive a Twitch prize pack that includes a jersey signed by Team Liquid, one of the best professional esports teams in the world.
Says Ricky Chanana, head of sales AUNZ for Twitch: "We loved being part of Big Game and being able to provide a forum for our industry to connect and chat over gaming and do our part in helping raise funds for the important work that UnLtd do with young people at risk. There were some epic games to watch and a great atmosphere in the chat too! We can't wait for next year's Big Game!"
The teams participating in Big Game were: ACM, ARN, Carat, Mediacom, Foxtel Media, GroupM, Half Dome, IPG Mediabrands, Sizmek, Nova, Network 10, Nine, OMD, oOh!media, Publicis, PHD, Quantcast, REA Group, Seven West Media, The Guardian, Val Morgan, The Trade Desk, Verizon Media and Twitch.
Says Bronte Mikel, events manager at UnLtd: "It was amazing to bring together the gaming talent of our industry but also to introduce new people to the world of gaming and esports. We've had such positive feedback and we can't wait to do it all again soon! Thank you to everyone who gamed for good and helped us raise funds for children at risk. And a huge thank you to our sponsor Twitch and supporters Let'sPlay.Live and eGen and our wonderful host Max Vonneumann – we couldn't have done it without you!"
Says Duane Mutu, managing director of LetsPlay.Live.: "It was a pleasure introducing esports to the local advertising industry. Congratulations to OMD and GGWP to all that were involved."
(Max Vonneumann (@formalcasting) and Chris Freel, CEO of UnLtd)