Campaign Brief recognises and showcases the great work that is being produced in the region with The Work 2022 Contenders…
Foodbank WA: Sound of Hunger
The Brand Agency, Perth
After COVID-19, the amount of people requiring food relief increased substantially. A third of them were experiencing hunger for the first time. We needed to bring to life the depth, diversity and discomfort of hunger across Western Australia. The Brand Agency, took their stories, and using field recordings, foley, acted improvisation, and human body microphones, made an unsettling, layered soundscape. The sound of hunger. The campaign spanned audio, digital, social and press, with an interactive website showcasing the individual layers of the sound, the stories, and statistics. The more users donated, the quieter the sound became – in the browser, and in WA.
Road Safety Commission: Shadows of Summer
The Brand Agency, Perth
With Christmas parties, holidays, family reunions and catch-ups, there's a good reason why the festive period is called 'the silly season'. Sadly, it's also the season that sees an upswing in silly mistakes being made on our roads – mistakes that cost 166 West Australians their lives last year. To address this issue head on, Road Safety Commission and The Brand Agency created a poignant installation featuring decals of shadows representing those who lost their lives on our roads. Launched by Road Safety Minister Paul Papalia at Bathers Beach in Fremantle, The Shadows of Summer installation has and will be placed at key locations including Fremantle, Scarborough, Hillarys, Northam, Geraldton, and Mandurah as a sombre reminder for all road users to take care on the roads this summer.
Road Safety Commission: Don't Be Missed this Summer
The Brand Agency, Perth
The festive season is colloquially known as 'the silly season' for good reason – Christmas parties, holidays, and jubilant catch-ups. Unfortunately, it's also the season that sees an upswing in silly mistakes being made on our roads. To bring this to the fore of WA road users' minds, we launched a series of billboards on the way to the beach, the pool and bars that depicted people engaged in common summer activities. With one person missing, leaving only a shadow, the message was clear: don't be missed this season.
Containers for Change: Don't Feed the Fill
The Brand Agency, Perth
In Western Australia, 40% of drink containers – 600 million – end up in landfill, instead of being recycled. Combining poetry, jazz, and an animated, monstrous landfill world, the "Don't Feed the Fill" film brings to life the imagination of a young girl, rescuing a container from the jaws of The Fill and giving it another life. The film was teased with dark, unbranded OOH and discordant free jazz radio, becoming vibrant and inspirational on the film's release. An interactive website, where visitors play the role of the hero girl, let Western Australians pledge to be a Container Saver themselves.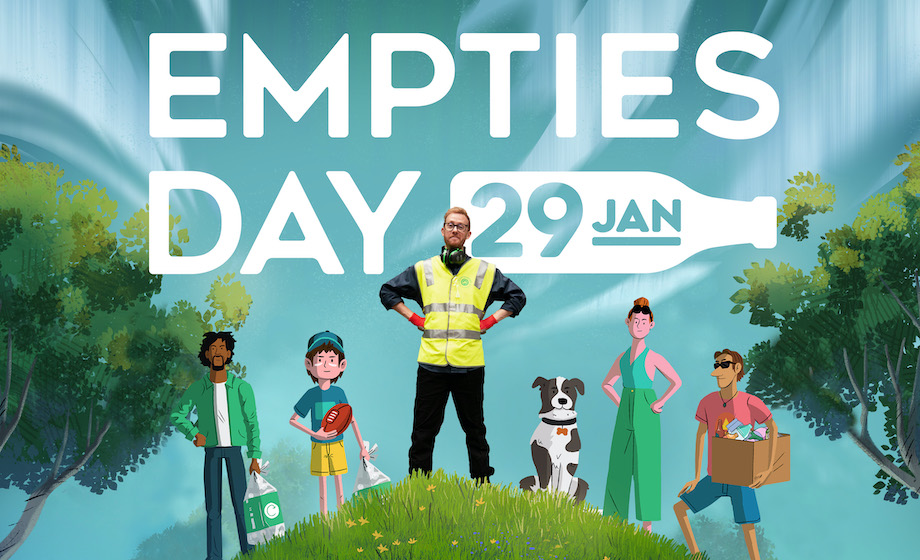 Containers for Change: Empties Day
The Brand Agency, Perth
The summer holidays are peak beverage time, with millions of redeemable 10c drink containers sold in Western Australia. That's millions in 10c refunds that could go directly to charity. So, how do you remind people donate their empties for good? We made January 29 Empties Day. A day for everyone to drop off their 10c containers and donate the funds to a good cause. A series of videos starring 'Empties Dave' ran across social media, with online, press, OOH, and even airborne amplifications. It was the second biggest day in the scheme's history, with over 4 million containers returned.
Kleenheat: Not Thinking About Gas – Locked Out
The Brand Agency, Perth
Preparing a dinner party to impress is no mean feat. And as our heroine pops outside to pick up some herbs as a final flourish to the main course, the door locks unexpectedly. Through the window, we see the family's ravenous dog enter the kitchen. Is this another of those 'thinking about gas' moments? Of course not. Kleenheat spend all their time thinking about providing a safe and reliable gas supply, so their customers can simply let life flow.
The Brand Agency: Chase Greatness Mural
The Brand Agency, Perth
The Chase Greatness type installation was constructed using over 6500 individually placed coloured pencils. Each pencil is symbolic of the many ideas, people and challenges that come together to create greatness in all of its colour, shape and form.
It highlights how successful brands aren't built on a 'quick fix' or 'that'll do' approach, but rather with effort, time and craftsmanship.
RAC: RAC Rescue Helicopter Timeline
The Brand Agency, Perth
RAC Rescue helicopters operate 24 hours a day, 7 days a week, 365 days a year. If you need them, they will be there. Every hour of every day.
So we took 24 real RAC Rescue helicopter missions — one for each hour of the day — and put them on two 66-metre timelines along the busy Citylink tunnel in Perth Underground station. Usually an inconvenient obstacle, we used the site's handrail instead as an asset, forming part of the timeline itself.
The deadline for Campaign Brief's The Work 2022 is Monday May 2. Entries are FREE with only an acceptance fee charged for those that make the cut. See full details and enter here… If your agency has entered The Work and would like to showcase your best work in our Contenders series email ricki@campaignbrief.com.