Australian employment marketplace SEEK has launched its latest brand campaign via TBWA\Melbourne, as the first piece of work under the business' revival of the SEEK and you shall find brand platform.
SEEK is reintroducing the platform after more than 10 years to Australian and New Zealand markets through an engaging and playful campaign dubbed The SEEKRET.
The SEEKRET spotlights SEEK's power to deliver better job matches than ever before to jobseekers – by simply using the SEEK app. This takes its cues from the brand truth that with SEEK you are six times more likely to find a match – so if you SEEK, you really shall find.
TBWA\Melbourne, along with its branding specialist division Brand\Labs, were tasked with creating disruption across SEEK's brand experience. The new work breaks free from category conventions for job and recruitment brands with a fresh and engaging brand campaign that not only encapsulates the sentiment of the SEEK and you shall find brand platform, but that is synonymous with SEEK's trademark humour.
The hero brand creative – The SEEKRET TVC, features self-appointed motivational-speaker John from the US, who's determined to share his message, alongside his enthusiastic assistant and loyal sidekick Jay, to a conference room of jobseekers. John asks the audience to share what they're looking for in their next job match – from a higher salary to greater flexible working. He subsequently engages the all-powerful SEEKRET. The catch? There is no secret. John is simply searching via SEEK, and the audience is on to him.
The campaign is directed by Tom Kuntz, who brings his own unique style to the campaign. Kuntz is best known for his work "The Man Your Man Could Smell Like" for Old Spice and the "Taste The Rainbow" campaigns for Skittles.
Says Maryanne Tsiatsias, director of marketing ANZ at SEEK: "Reintroducing an iconic brand platform always presents a unique and exciting opportunity to think big and think creatively. And this launch was no exception. At SEEK, we pride ourselves in our continual investment and enhancements to our job search and match capability and therefore with better job matches than ever before jobseekers are almost six times more likely to find their match using SEEK. Hence the simple but powerful brand platform that does what it says on the tin: SEEK and you shall find.
"With The SEEKRET, we wanted to embody this promise, while also staying true to our marketing focuses of driving talkability and shareability for our brand and embodying the lighter side of our personality. We loved the idea of having a bit of fun with the power of SEEK. We can't wait to see how Australian and Kiwi audiences respond to our first piece of work under our refreshed, but much loved, brand platform."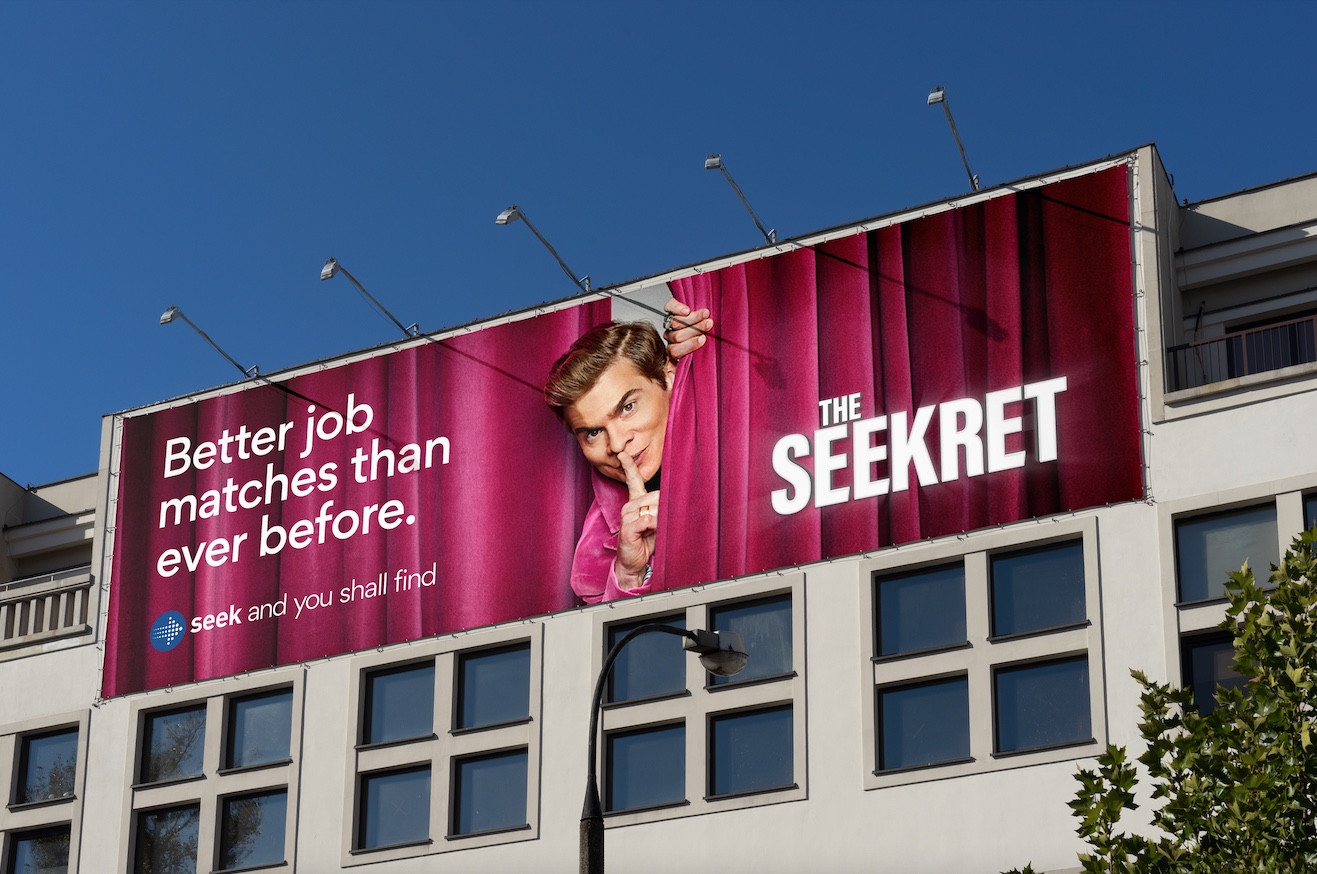 The media strategy, which was delivered by UM Australia alongside SEEK's internal media and customer engagement team, will see the campaign running across TV, cinema, outdoor, online video, search, email, display, social and SEEK owned channels.
SEEK is committed to continuously innovating and enhancing its product to deliver better job matches than ever before. From the SEEK app providing access to relevant jobs anywhere and anytime, through to personal and Company profiles to get noticed or learn more about a company before you begin, SEEK is the best place to find what's right for you.
SEEK
Maryanne Tsiatsias, Director of Marketing ANZ
Babi Kahveci, Head of Brand & Marcomms
Phillipa Jamieson, Senior Marketing Manager – Brand
Brigitte D'Andrea, Senior Marketing Manager – Marcomms
Carly Robinson, Marketing Manager – Campaigns
Simone Gioia, Senior Marketing Associate – Campaigns
Mark Thiele, Head of Media & Customer Engagement
Kevin Alphonso, Senior Marketing Manager – Digital Paid Media
Allison Downes, Marketing Manager – Programmatic Media
Hagan Osborne, Senior Marketing Associate – Media Planning & Performance
Creative Agency: TBWA\Melbourne
Director: Tom Kuntz
Production AV: MJZ / Good Oil

Production Photography: Louis & Co
Post Production: The Editors
Sound Production: Squeak E. Clean Studios

Media AU: UM Australia
Media NZ: UM New Zealand