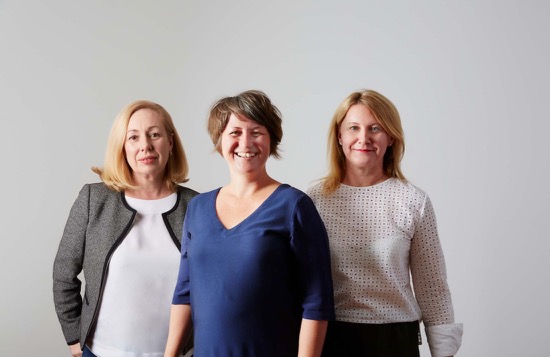 When the two founding partners of The Producers launched their film production company five years ago, they knew how to pump out quotes, create great treatments, source talent, find locations, put a crew together, run a PPM and everything else TVC producers have to do on a daily basis.
What they didn't know five years ago is that one day they would welcome another partner to help them with their expanding production company. That day has now come and Noelle Jones (centre) and Tanya Spencer (right) are thrilled to announce that Victoria Connors (left) has joined the Producers as a partner.
Conners, most recently head of content at McCann Melbourne, brings with her a wealth of experience in TVC production and company management. Her career has straddled both the production company and agency sides of the business, endowing her with a rare combination of skills that will be fully utilised at The Producers. Spencer and Jones have always prided themselves on creating smart solutions for their clients and believe having Conners on board is only going to add to their arsenal.
Says Spencer: "The Producers has always been about the work. Any success we've had is because we both want to get the best out of every job. We know Victoria works the same way and we're looking forward to having another partner to help us grow and keep doing the kind of work we want to be known for."
Says Jones: "Everyone will benefit from having Victoria as part of our team. She's got the commitment and resourcefulness that our clients have come to expect from us so they're going to be even happier. And our directors along with Tanya and I will get to soak up her experience and ideas to ensure every project has that little edge."
Says Conners: "I'm so genuinely excited to be joining The Producers. I've loved my recent role at McCann working across filmed content, broadcast, digital and activation and I'm looking forward to bringing those skills and insights to The Producers. Tanya and Noelle have so much experience and are truly world class producers working with an exciting and diverse group of directors. I love their dedication to the craft of commercial film making and making sure as much value is added to every frame as possible."
Conners starts with The Producers on July 4.