Mona (Museum of Old and New Art) has launched a new campaign with The Glue Society and Revolver, aimed at attracting WorldPride attendees to celebrate Pride in Tasmania.
Mona Foma, in partnership with Tourism Tasmania, presents The Tasmanian Queer Woodchop Championships—featuring a live artwork by Pony Express—on Friday 24 February.
In celebration of WorldPride, visitors are invited to Mona's Tennis Court, for free, to witness the fastest growing queer timber-splitting-based sport in action. Only in Tassie, the classic form of the once male-dominated woodchopping competition will meet joyous queerness in a spectacle of flying wood and fabulousness. Afterwards, visitors can continue the festivities at the Mona Sessions, featuring pop-provocateur Peaches, and the aptly named afterparty—The Party.
The Queer Woodchop is what happens when you fuse LGBTQIA+ artists with a traditionally heteronormative sporting activity. Produced by experimental performance duo Pony Express, the artwork will involve performers and timbersports athletes battling it out on a subverted agricultural show ring. The Queer Woodchop plays on best-in-show country fair camp, and includes commentators, showbags and DJs. It is a tongue-in-cheek event that combines Agfest with nightclub, softening the line between rural tradition and radical queer performance practice.
Pony Express—Ian Sinclair and Loren Kronemyer—work across multiple mediums, creating pieces that reflect themes of queer politics, adaptation and experimentation. Their art has been presented in an array of traditional and non-traditional venues, where they work with communities, organisations and subcultures. The duo have explored environmentalism and physical love for (and with) nature and with The Queer Woodchop they ask; can you love nature while going at it with an axe?
Through this new work, Pony Express unpack the multiple meanings of 'strength' and the variety of flamboyant and conceptual 'muscles' needed in art and athletic achievement. Sinclair, from New South Wales, and Kronemyer, from lutruwita / Tasmania, say: 'There's both an inherent campness and conservativeness to this contest. The Queer Woodchop aims to hack away these lumbered binaries, progressing and radicalising the sport towards queered artform status while celebrating its past and present champions, legends and stories.'
Says Sarah Clark, CEO, Tourism Tasmania: "Tasmania is the perfect place where art, woodchopping and queer inclusivity can spectacularly collide. The Tasmanian Queer Woodchop Championships is an exciting artistic event made by members of the queer community, happily coinciding with the WorldPride festival in Australia for the first time. Tourism Tasmania is delighted to partner with Mona Foma to support this artwork and provide a compelling excuse for festival-goers to visit the state."
Competitive woodchopping originated in 1870s lutruwita / Tasmania—as legend has it—as a method for resolving disputes between two axemen. Australia has since gone on to be world-leading in the woodchop arena (The Chopperoos are the most internationally celebrated team ever and Tasmanian icon David Foster is officially Australia's most successful athlete). As a community spectacle, timber-sports has always drawn a crowd—and with this project Pony Express aims to find a third space between the Lumberjacks and Lumberjills, queering 'C'mon Aussie C'mon' values.
Mona Foma punters in Launceston also have the opportunity to witness The Queer Woodchop, with the artists performing as part of the Fantastic Futures exhibition—curated by Emma Pike—in the quadrangle of an old technical college from 5.15pm daily.
Championing queer and rural festivity and community togetherness, The Queer Woodchop takes place on Friday 24 February at 3.30pm on the Mona Tennis Court, prior to the evening's Mona Sessions, featuring Peaches—followed by The Party in the depths of the Old Mercury Building.
More information on the Mona Foma website: https://monafoma.net.au/the-queer-woodchop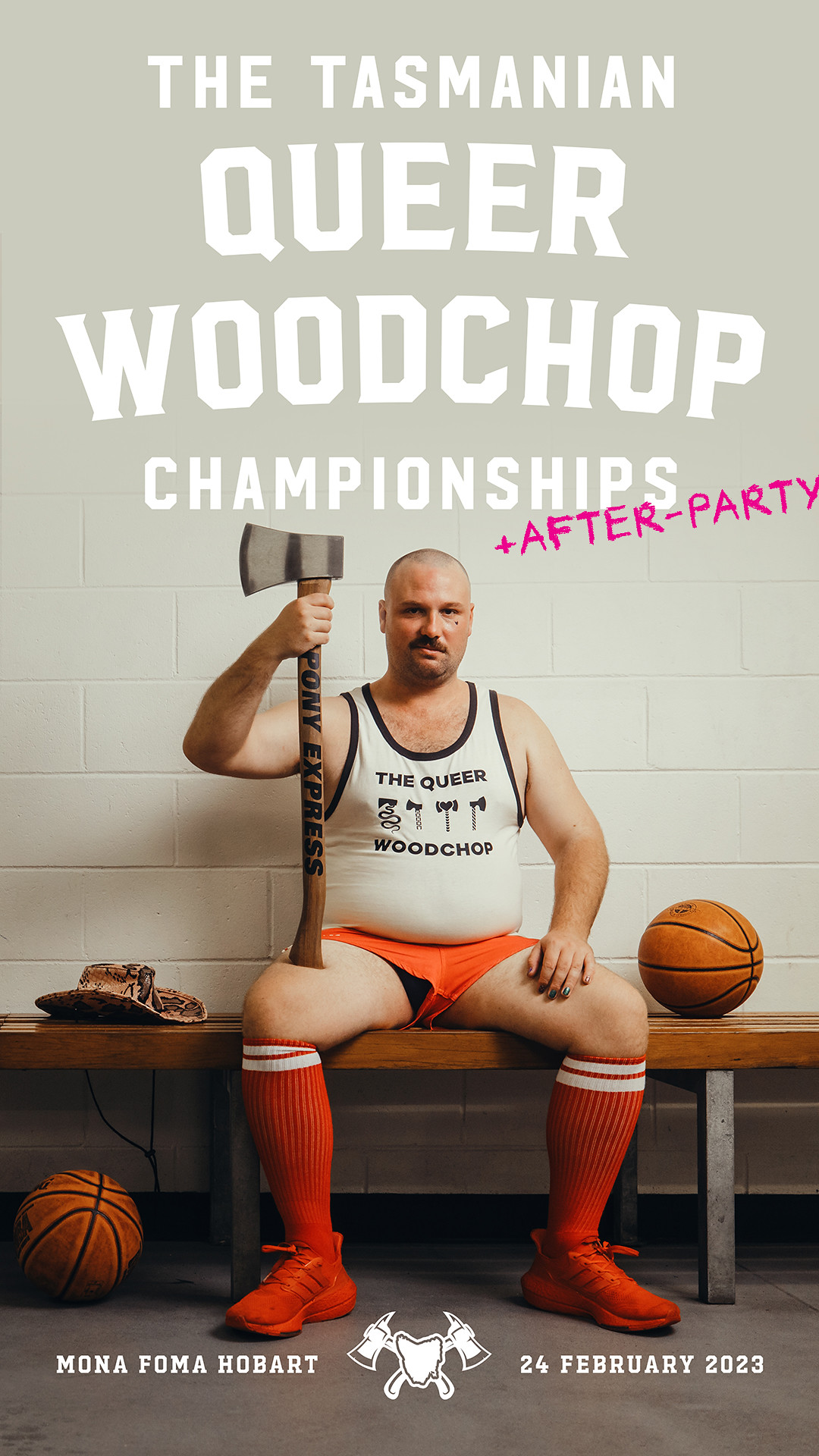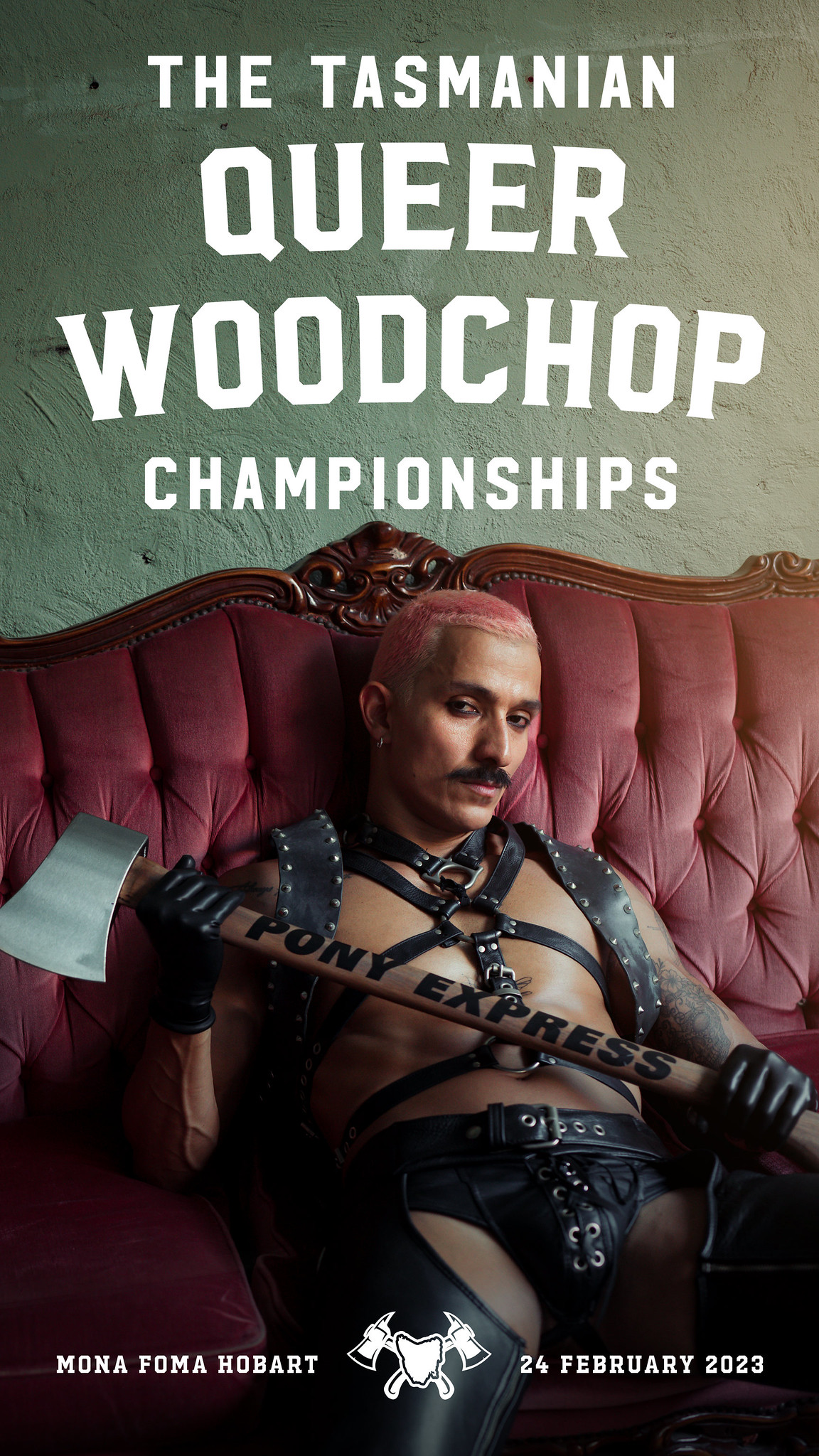 Museum of Old and New Art (Mona)
Director of Marketing and Communications: Robbie Brammall
Head of Creative: Jardin Anderson
Senior Photographer/Videographer: Jesse Hunniford
Assistant Photographer/Videographer: Jacob Collings
Finished Art: Jordan Cowen
Head of Partnerships/Project Lead: Angelique Brcic
Senior Curator: Emma Pike
Social Media Manager: Bridget McKernan
Senior Marketing Manager: Daniel Aitken
Pony Express
Artist: Loren Kronemyer
Artist: Ian Sinclair
Tourism Tasmania
Head of Content: Tim Cheng
Consumer Marketing Relations Manager: Liza-Jane Sowden
Paid Media Manager: Tom Sherson
The Glue Society/Revolver
Director: Pete Baker
Director of Photography: Jordan Maddocks
Producer: Cathy Rechichi
Assistant Director: Jose Marquina
Second Unit: Kate Cornish
Art Department: Lexi Laphor
Costume Supervisor: Al Joel
Costume & Standby: Willow Darling
Make-up/Hair: Afton Radojicic
Editor: Luke Crethar
Grade: Scott MacLean
Music: Scorpio Loon, Addicted To You