Experiential content agency Spinifex created two immersive activations using ground-breaking large scale 360-degree dome projections for the Royal Australian Air Force (RAAF) and House of Kitch Communications that took visitors to Avalon 2019 on a journey into the future of the Air Force.
Spinifex created content for two immersive dome experiences using the relatively new medium, 360-degree dome projection on a scale not seen before in Australia.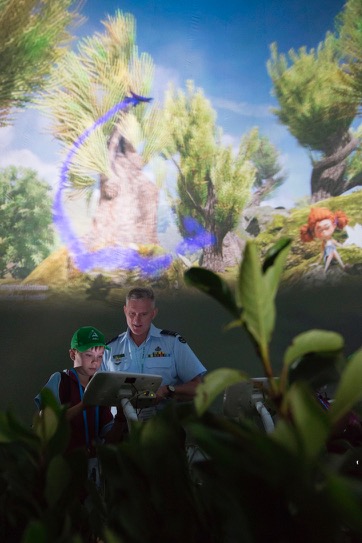 The brief was to create two exhibits for the keenly anticipated Avalon 2019 – Australian International Airshow – by showcasing the sophisticated technology that is shaping the RAAF of tomorrow.
The first installation, the Jasper Dome, involved transforming a compelling 16×9 animated film into a large-scale, multi-user experience within a 15m dome. Spinifex leveraged the award-winning animation developed by Animal Logic Academy in collaboration with RAAF's Plan Jericho to bring the compelling story of Jasper and her dream to fly to life. It was designed to inspire children with aviation and other STEM careers. Spinifex created the content to be experienced in real time, so Jasper could interact with her live audience.
The second exhibit, the 5th Gen Edge Experience, delivered dramatic storytelling through a 360 projection within an 8m dome to demonstrate the power of RAAF's transformation into a fifth-generation Air Force. Spinifex and WGCDR Chris McInnes created a three-chapter script where the same incident is seen from three different viewpoints,
demonstrating how the incident would take place in current-state in comparison with how it would be addressed in a fifth-generation Air Force. Perspective and angles needed to be made to work for viewing from below. Understanding how to draw focus to the important story points while keeping the rest of the dome activated was critical to success and Spinifex used a combination of green screen filming, CG environments, 3D models and motion graphics overlay to create a dynamic, filmic view of each scene.
Says Group Captain Jerome Reid, director of Plan Jericho: "We needed to engage the audience on an emotional level and that's where the idea of the immersive dome projections came from. I've had a long military career, I have never seen anything like this."
Says Tracey Taylor, APAC managing director, Spinifex: "Immersive domes with internal projections have never been done on this scale before in Australia. This made the domes a compelling attraction at the Avalon Airshow, providing Defence Force VIPs, internal audiences, government officials and the public with a very different viewpoint of the future of the RAAF."
The activations made complex concepts accessible to visitors, according to strategic communications consultancy House of Kitch Communications founder Samara Kitchener: "Part of Plan Jericho's vision is about inspiring a whole new generation of talent to be part of creating Australia's aerospace future; and inspiring our existing talent to push the edges of the fifth-generation force. By stretching the boundaries of creativity and technology with these immersive domes, we are able to use 'storytelling on steroids' to convey concepts that would otherwise be very difficult to communicate."
Aerospace 2019 – the Australian International Airshow and Aerospace & Defence Exposition, was held at Avalon Airport, Geelong, Victoria from 26 February to 3 March.