Paul Yole has been reporting for Campaign Brief from Cannes since 2007. An industry veteran of over 40 years (latterly at The Brand Agency), this year Paul is joined by his daughter Emma, who is just entering the industry. Each day they will be giving their very different perspectives on the best sessions of the week. You can also follow Emma's Cannes Instagram story @emmacyole.
Emma: On Tuesday afternoon I watched a couple of talks on The Terrace. It was a beautiful setting, but I definitely don't recommend it if you have a bad back – there's a scattering of low deck chairs, but mostly it's seating on the floor. It was reminiscent of the painful school assemblies I had to sit through as a kid where I'd spend the whole hour trying not to let my legs fall asleep.
The first talk featured Big Sean, a rapper who I hadn't really heard of – unlike the 20-year-olds surrounding me who swarmed him afterwards for a selfie. I was really only there to see Rainn Wilson, and he is definitely in my top 3 favourite talks out of the 14 I have been to so far.
Ten years ago Wilson started his own company, Soul Pancake, which was recently acquired by Participant. They work on a wide range of projects all aimed at social causes. The talk had a good mix of comedy, information and interaction.
Wilson spoke about how words like 'authentic' and 'purpose' are dead, and like many other speakers this week highlighted the importance of millennials. I'm excited for one of their upcoming projects where they'll be getting to kids create their own Bill of Rights and presenting it to Congress. Good luck with that.
Listening to Wilson talk so enthusiastically reminded me that this industry needs to let more people in from other backgrounds. I spoke about this a bit in Monday's article, but I think it's worth mentioning again. Surely the best way to come up with new ideas is to gather more diverse opinions – just a small observation from someone who is just entering the industry.
Paul: I could really have done with a quiet day after sharing a drink with Jeremy Craigen and Neil Dawson last night but undaunted we sat through a tsunami of planner-speak at the WARC sessions.
By the way, WARC has just released a great report called The Anatomy of Effectiveness that you can download for free at their #makeitwarc website here.
But back to the Plannerthon.
The first couple of talks focused a lot on customer experiences, which apparently is a new think signified by a special code called CX.
To call it 'The Age of Experiences' is ridiculous. Isn't that what it has always been about?
Anyway, there is some great news for all those people who hate planners. According to WARC research among 800 strategists, 63% do not expect their next job to be in an agency.
But it's bad news if the industry loses the sort of talent great planning can deliver.
Emma: Not many would argue about the undoubted talents of the first speakers I saw at the WARC day.
According to Rob Campbell and Martin Wiegel, we need more chaos and less engineering to get the really good ideas that will create change.
What could be more chaotic than filling your agency with loads of different minds and types of people? The energy would be electric.
Bring back dangerous ideas, they said. Ideas that are bigger than advertising and scare the crap out of the establishment, like the 'insane' overtaking button on the Tesla.
Paul: Rob and Martin form a good double act. They've formed a venture called The School of Strategic Artists. Can't wait to see more about that.
A few points worth thinking about:
– Consulting firms are buying competencies they don't understand (which may or may not be true)
– 'Best Practice' means everything sounds and looks the same
– We're more obsessed with the distribution of ideas than the ideas themselves
– Corporations are always about stability and control, which stifles creativity
– More data cannot save us
– Dissent is our only protection against mindless herd behaviour
– Be interested in what others are interested in
– Planners should not try to impose their will, just give creatives a problem to solve (although I think we need to at least help then start to solve it) and they should stop thinking they're Yoda
Emma: One agency that certainly doesn't seem to have an engineering approach to their ideas is Droga5. Jonny Bauer presented a case study on their hugely successful and awarded 'Dundee' campaign for Tourism Australia.
Despite my comment about engineering, the level of detail and planning that went into this campaign was impressive.
We all know about the awards but a 30% increase in bookings is not to be sneezed at.
It was a fascinating 30 minutes that proved crazy ideas can not only work, but be highly effective.
Paul: Among all the Plannery charts we had to sit through today, entertainment relief was proved by Rory Sutherland and Harjot Singh, McCann's CSO for Europe.
Two memorable quotes from Harjot:
"When it comes to data, stop out-sourcing common sense."
"We have more data than ideas."
"Data is a means to solve a problem, not to sell. It is there to help us solve old problems in new ways."
"Think of technology like you think of salt on food. You don't want to see it, just taste it."
Rory's talk was as brilliant as always. He talked extensively about changing the context in which we present our message, of introducing a "yes, but" thought.
You should read his new book, Alchemy.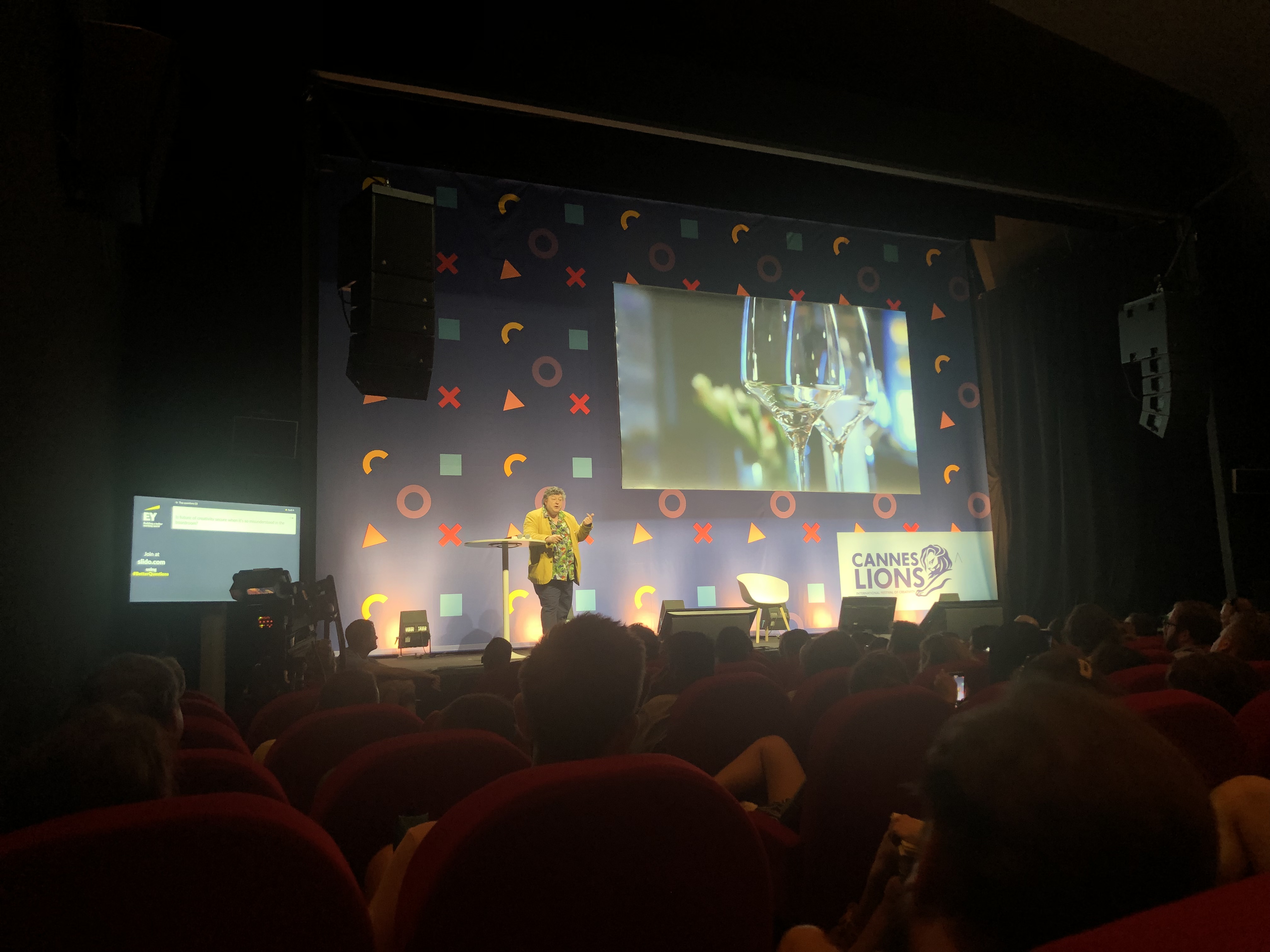 Emma: One last thing from me.
Take a look at this slide presented by Rainn Wilson about Gen Z. He speaks the truth.
Paul: And one last thing from me.
Peter Field, that guru of effectiveness, scared the crap out of me and everyone else with some new research.
You know how we've been telling everyone for years that creatively awarded campaigns are up to 12 times more effective?
Well the worm has turned. There has been a downward spiral for the last ten years and now it seems likely that they are no more effective.
The reason, almost certainly, is the focus on short termism at the expense of long-term brand building. And judges have been rewarding to so it makes matters worse, according to Field.
But there is possibly another reason.
A recent study by the Financial Times suggests that one third of senior marketers regard their brand-building skills as average at best, and their boards' understanding of brands is even worse.
Heaven help us.