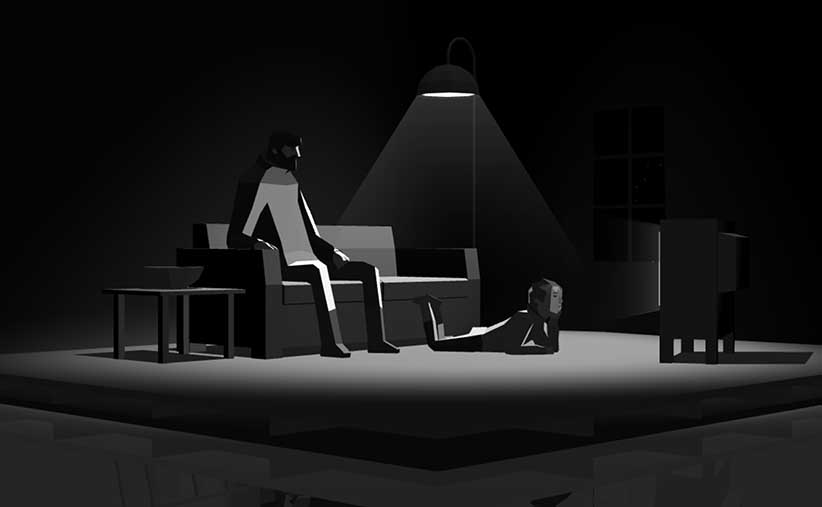 R/GA Sydney, in partnership with Google Play Music and Hilltop Hoods, has created an interactive film for 'Through The Dark'; a song written by Dan Smith (aka MC Pressure) as his son underwent treatment for leukaemia.
The emotive experience harnesses mobile and digital technology to show a world turned upside down. Rotating and tilting high-spec Android phones reveals a father and son's journey through two 3D animated environments – the dark representing fear and the light representing hope. In the desktop version, navigation is controlled via trackpad or mouse.
"This is a deeply moving story and a powerful song that had to be brought to life in a way that conveyed the emotional journey at its heart," said Hamish Stewart, Executive Creative Director of R/GA Sydney. "We wanted to push the capabilities of mobile to their limit to do it justice."
The interactive film is driven entirely by code. The 3D environments are rendered in real-time with WebGL, enabling users to choose their own experience of the story based on the orientation of their device.
"Balancing the technical and creative requirements was a significant challenge. The end result was achieved through close collaboration with some incredibly talented people who shared our passion for this project," said Stewart.
'Through The Dark' is part of Google's commitment to supporting Australian artists with projects merging art and technology to create innovative music experiences. Past launches include 'The Cube' for The Presets 'No Fun', and 'Playing With Fire' for Elizabeth Rose.
Sophie Hirst from Google Australia said, "For anyone that's been to a Hoods concert, hearing this song live is a magic moment. We wanted to recreate that feeling for anyone, no matter where they were, to give depth to the musical experience and help raise awareness for young people living with cancer in Australia."
It was also vital to give fans a way to support this cause directly. Listening to the latest Hilltop Hoods album, 'Drinking From The Sun, Walking Under Stars Restrung', on Google Play Music via the link at the end of the 'Through The Dark' film results in a $1 donation to leading youth cancer organisation CanTeen, thanks to Google and Hilltop Hoods.
Dan Smith from Hilltop Hoods said, "Through The Dark was inspired by my son's fight against leukaemia; it's a story of hope and perseverance throughout the journey of his recovery. Cancer is something that affects us all at some point in our lives, whether a personal struggle or someone close to us. Through a collaboration of music and technology we seek to empower and give strength to the suffering: our listeners can do the same by donating generously."
Production Co: Exit Films
Executive Producer: Kim Wildenburg
Animation Studio: XYZ Studios
Senior TD: Richard Osellame
Executive Producer: Garett Mayow