Australia is more dangerous than ever. Our seasons are becoming increasingly more volatile as the country faces higher risks of bushfires, storms and floods. So, this Christmas NRMA Insurance via CHE Proximity, is introducing something fun, in service of this more serious need – Help! The Game – an engaging way to start the conversation with families and help Aussies understand the importance of insurance.
The gameplay of HELP! The Game mirrors life. Players buy houses, boats, cars, pets and renovations. At every throw of the dice they can risk it all by adding to their wealth or protecting what they have with a giant dome – NRMA Insurance. The player least impacted by floods, fires, theft, snakes, storms, tornados, and sometimes, bin chickens, wins.
HELP! The Game is on sale at Kmart stores and available in ecommerce, with a portion of proceeds from each sale going towards supporting disaster relief and recovery for NRMA Insurance's partner, Australian Red Cross.
Says Zara Curtis, director of content and customer engagement, NRMA Insurance: "We're always looking at new and innovative ways to help Australians understand risk and the value of insurance. What better way to capture the attention of Australian families this Christmas than by creating something that helps bring insurance to life in a fun and engaging way.
"Interpreting the rules of a board game always creates debate around the table, so it's exciting to be breaking category norms and consumer expectations with the launch of HELP! The Game. We're excited to partner with Kmart this Christmas."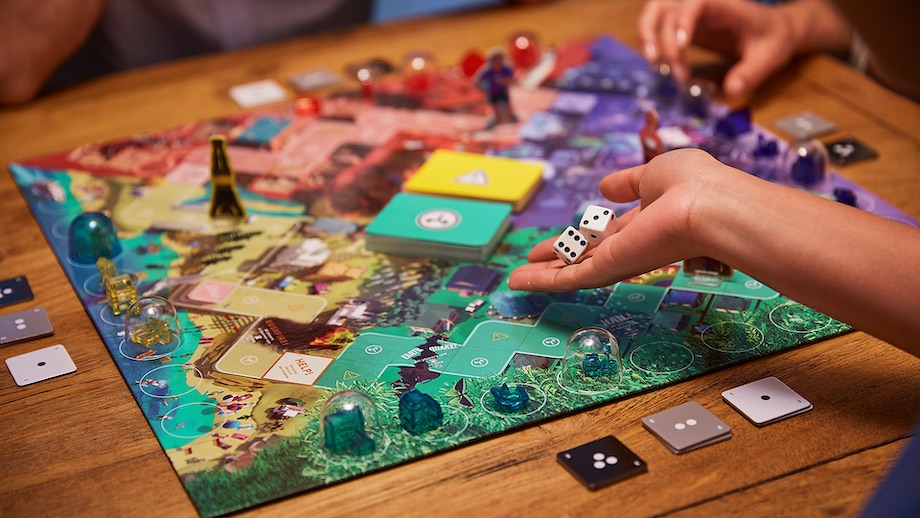 Says Ant White, chief creative officer at CHE Proximity: "HELP! The Game is a fun way to talk about something no one wants to talk about – insurance. After the year that we've had, Christmas felt like the right time to give the country something that can help make them safer and also bring friends and family together."
HELP! The Game launches via a series of films, OOH, social, digital, PR.
Over 30,000 games are available for purchase from Nov 8th, 2020 at helpthegame.com.au or in every Kmart store across NSW and QLD.
IAG
Brent Smart, CMO
Zara Curtis, Director of Content & Customer Engagement
Sally Kiernan, Director, Brand
Caroline Hugall, Group Brand Strategy Director
Luke Farrell, Director of Marketing Operations
Mahsa Merat, Creative & Innovation Specialist
Anna Jackson, Brand Strategy Lead
Sam McGown, Creative & Innovation Lead
& all of IAG Marketing Team
CHE Proximity
Ant White, Chief Creative Officer
Wesley Hawes Executive Creative Director – Syd
Ashley Wilding, Creative Director
Daniel Davison, Creative Director
Nico Smith, Senior Art Director
Mark Carbone, Senior Copywriter
Zac Pritchard, Senior Copywriter
Holly Alexander, Director, Strategic Production
Darren Cole, Head of Design
Reece Lawson, Digital Design Lead
Michael McGregor, Designer
David Halter, Chief Strategy Officer
Nick Andrews, Head of Strategy
Olivier Boulbain, Senior Technology Project Manager
Chris Howatson, Group CEO
Shane Holmes, Group Account Director
Tyson Mahon, Senior Account Director
Charles Todhunter, Senior Account Manager
Production Credits Collider
Murray Bell, Experience Director
Andrew van der Westhuyzen, Creative Director
Hugh Carrick-Allan, Technical Director
Mitch Brown, Senior Designer
Naomi Illand, Head of Studio Production
Rachael Ford-Davies, Managing Director
Brendan Keogh, Game Consultant
Julian Frost, Jacky Winter Character Concept Illustrations
Special T Card and Booklet Production
Ted Esdaile-Watts, Principal Tech Creators Character, Object & Dome Manufacturing
Film Production Heckler
Heckler Film Production & Post
Simon Rippingale Director
Benja Harney Paper Engineer
Bonnie Law Executive Producer
Johnny Greally Producer
Simon Higgins Director of Photography
VFX Supervisor Jamie Watson
Senior Editor Andrew Holmes
Colourist Olivier Fontenay
Brad Smith Senior Flame Artist
Rumble Music Sound Design, Audio Production
Mindshare Media Agency
Thinkerbell PR & Earned