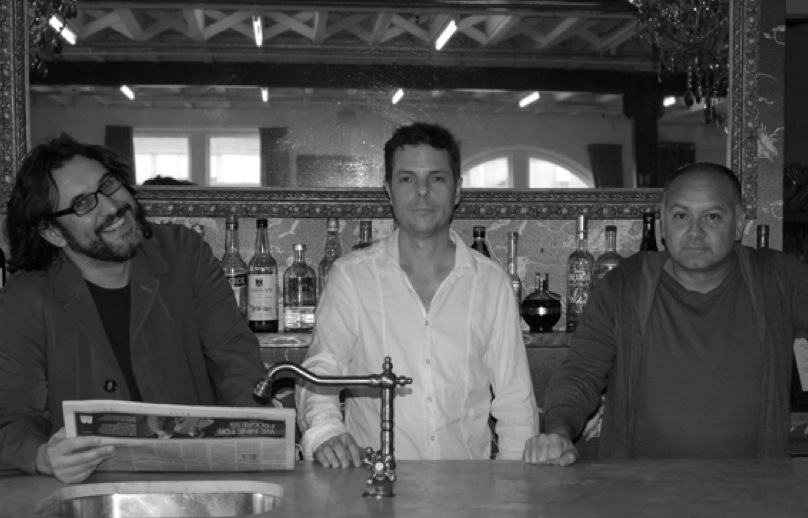 CB Exclusive – Naked Communications has snared globally recognised creative Simon Veksner as head of ideas across its Sydney, Melbourne and Auckland offices.
Veksner (above centre) has had an 18-year advertising career spanning agencies including Saatchi & Saatchi, DDB London, BBH, and DDB Sydney and has won awards including a Cannes Grand Prix (he co-created the VW 'Cops' ad – left) and multiple Cannes Lions, plus two D&AD Pencils and over 40 D&AD In-Book entries.
In 2010, he published a book aimed at young creatives called 'How To Make It As An Advertising Creative', and has a second book coming out in 2013, titled '100 Ideas That Changed Advertising'. His Scamp blog was the most popular advertising blog in the UK and this year he has re-launched Scamp in Sydney, where it has become a weekly feature on Campaign Brief.
"Naked has always been a strategically driven agency," says Adam Ferrier (top left), founder and global head of behavioural sciences. "In Simon, we have an exceptional world-class creative who complements our strategic offering nicely. We were looking for someone bloody good, and really nice, and in Simon we've found that person. Simon's skill set will ensure even more creative firepower will be applied to shaping the right solutions for our clients."
Most recently, Veksner set up a creative independent agency, Scamp Creative, which will now cease. Says Veksner: "Everything I wanted Scamp Creative to become – an intelligent, modern agency – Naked already is. The opportunity to work with the brilliant minds there, and help continue Naked's growth as a true creative force, was far too good to pass up. I am feeling the same kind of excitement I felt when I first got into advertising… I genuinely can't wait to get started."
Says Naked Chairman ANZ, Mike Wilson (top right): "Finding the right cultural fit for this role was crucial. We needed to find someone who worked with Naked's very open and collaborative business model. Simon has an impressive track record and is well liked and respected by everyone in the industry. It's a very exciting time."
Some of the Naked clients Simon will be working with include Unilever, Renault, TAC, Art Series Hotels, Pacific Brands, Brown Forman, Twinings &Co., and MLC.
Recent award wins for Naked include:
• 2012 ADMA – Grand Prix, and two gold
• 2012 EFFIES – two gold and two silver
• 2012 Cannes – 1 Gold Lion, 4 Shortlisted
• 2012 LIA (silver), One Show (Silver), One Show Interactive (Silver), One Show Entertainment (Bronze) D&AD (in book)