One of Australia and New Zealand's leading business management platforms MYOB has launched a new campaign via Sunday Gravy, reminding business owners that experience matters and that the original is still the best.
'Nothing beats the OG' recently launched with an inside out led marketing approach, first launching internally with a 5 minute film to induct current and new team members into the proud history, and bright future of MYOB.
Directed by internationally renowned filmmaker Nash Edgerton, the long-form film cuts down into eight ads that unpack key features and benefits that many wouldn't expect from MYOB.
In a departure from category convention, the films take us inside the walls of Australia and New Zealand's original tech darling, to see how they are constantly challenging themselves to innovate and create the products that will power the next generation of business management software.
Says Dean Chadwick, new CMO, MYOB: "We are proud of MYOB's rich heritage of providing the technology that helps small and medium businesses to run. This campaign is designed to bring to life the faces behind the technology, who work day and night to make the lives of business owners easier. We were excited to work with Sunday Gravy on this campaign, as they have created a huge library of content for us to leverage in the short and long term."
The campaign coincides with a $5p/m promotion, a price point that is designed to reduce the financial burden on small businesses, who are living through their own 'cost of business' crisis.
The films and accompanying assets have been activated by iProspect, who have created a bespoke local area targeting model to ensure the businesses that need the most support, get exposure to the campaign.
Says Ant White, CCO and founder, Sunday Gravy: "We are all hugely proud of the way we approached this campaign; we've worked so collaboratively with MYOB & iProspect, along with one of Australia's best directors Nash – and together we've melded product scripts with a strong narrative. Through the process we have also developed characters that bring a real sense of humanity to the MYOB product itself, and will also be part of the MYOB brand story ongoing. For small businesses who choose MYOB, this is the team you get, working tirelessly behind the scenes to make your business run smoothly."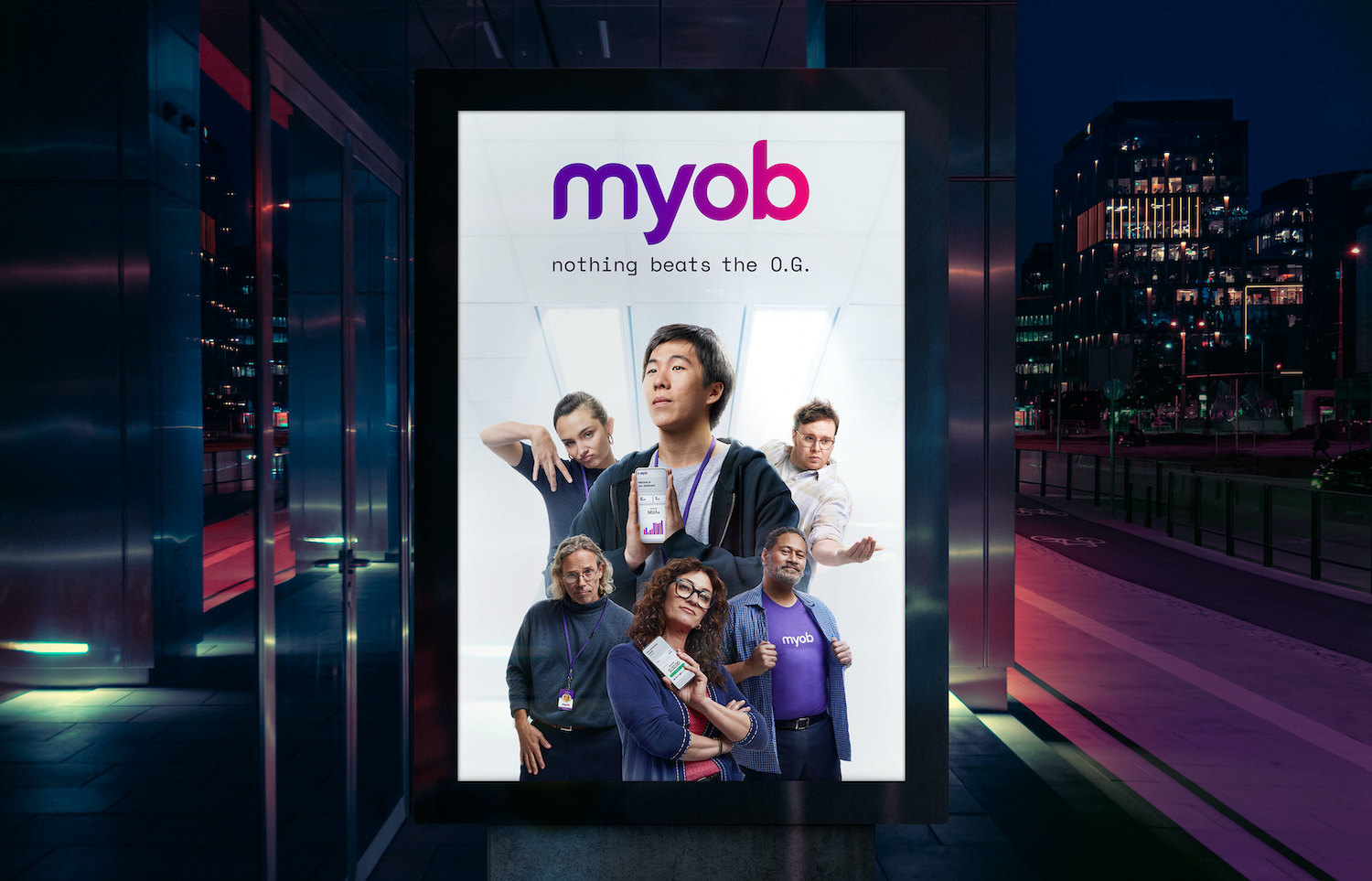 Client: MYOB
Dean Chadwick, Chief Marketing Officer
Elisa Del Grosso, Head of BMP Marketing
Gab McKenzie + Belinda Watson, Head of Marketing Activation
Creative Agency: Sunday Gravy
Ant White, Chief Creative Officer and Founder
Khia Croy, General Manager
Emily Pietrocola, Senior Account Director
Bec Gubbins, Account Director
Isabella Susnica, Account Manager
Suse George, Senior Producer
Sam Whatley, Senior Writer
Max Kennedy, Senior Art Director
Charlotte Hicks, Design
Alex Crampton, Senior Design
Media Agency: iProspect, a dentsu company.
Marcelle Gomez, Managing Director
Ken Lam, National Head of Investment
Sam Bremner, Client Partner
Vera Manalac, Group Investment Director
Shae Healey, Group Digital Director
Amanda Bodagh, Investment Manager
Ben Shepherd, Chief Investment Officer
David Halter, Chief Strategy Officer
Production: Collider
Director: Nash Edgerton
Managing Director: Rachael Ford-Davies
Executive Producer: Karen Bryson
Producer: Michael Cody
Casting Director: Stevie Ray @ McGregors
DOP: Aaron McLisky
Production Designer: Jen Waters
Wardrobe: Sophie Fletcher
Post Production: ARC EDIT
Executive Producer: Daniel Fry
Producer: Kani Saib
Editorial: ARC EDIT
Editor: Luke Haigh
Second Editor: Lissie Mary Geyer
Finish: ARC EDIT
Colourist: Alina Bermingham
Online Artist: Heather Galvin
EP – Ceri Davies
Sound Design – Paul Le Couteur/Rob Stephens
Photography: Joel Pratley
Retouching: Electric Art