McDonald's Australia has today partnered with Snapchat to run the first nationwide sponsored geofilter activity in the country via VML Australia.
The campaign features three unique filters that centre on icons synonymous with the McDonald's brand – the world famous French fries and the 'I'm Lovin' It' tagline, as well as the Aussie cultural rite of passage, the Macca's Run. The Macca's Run filter will be available from midday.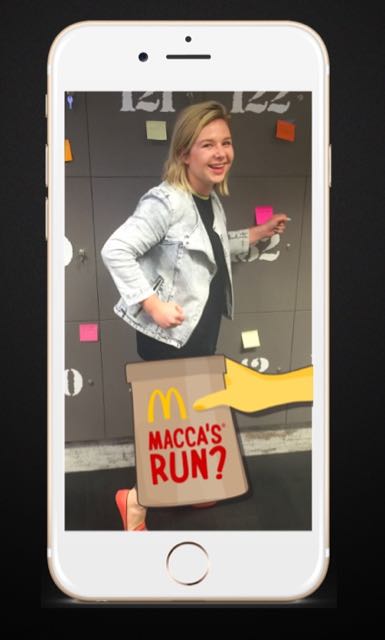 Says Mark Wheeler, director of digital, McDonald's Australia: "McDonald's has a long heritage of innovating in response to the behaviours and needs of all our audiences. As a brand, together with our agency partners, we create great content and experiences for customers and take pride in embracing platforms that help us take this to more Australians.
"With such a significant audience in Australia, Snapchat presents an incredible opportunity for Macca's to continue to remain relevant to our customers and employees alike. I'm thrilled with the work from VML Australia and OMD to create these Australian-first geofilters, and kick-off the McDonald's Snapchat story."
Sponsored geofilters are designed to allow brands to communicate with the local Snapchat community, by overlaying creative treatments that establish the 'where and when' of a post through the use of geo-location technology.
McDonald's Sponsored geofilters will activate for all Australians nationwide and are being supported on Macca's owned Facebook, Twitter and Instagram channels.
The filters launched at midnight and will run until 12.01AM tomorrow morning.
Director of Digital: Mark Wheeler
Digital Marketing Manager – Engagement: Sarah Harrington-Birch
Social Media Manager: Zoe Condon
VML Australia: Strategy, Creative and Social