MARS is one of the oldest, most iconic chocolate bars sitting on any shelf. But in a cluttered and highly competitive category, and with some big personalities to contend with, MARS needed to carve out its own positioning that reflected today's society. MARS has launched a new platform 'For You Who Did That Thing You Did,' created with Thinkerbell, which taps into the insight that people engage in a kind of mental self-bribery to complete everyday tasks. Rewarding themselves for finishing the smallest of things.
MARS saw an opportunity to own this space, to help consumers celebrate their everyday achievement or 'thing,' and plant the seed that said reward should be a MARS bar with delicious caramel, nougat and chocolate.
Across TV, OOH and radio the chocolate bar is framed as a reward for its consumers' bouts of effort ranging on the scale of extremely small to small-medium. Everything from parallel parking, finally watering a much-neglected pot plant, and remembering your workmate's pet's birthday. All things you might not phone home about but, in MARS' eyes at least, don't deserve to go completely unacknowledged or unrewarded.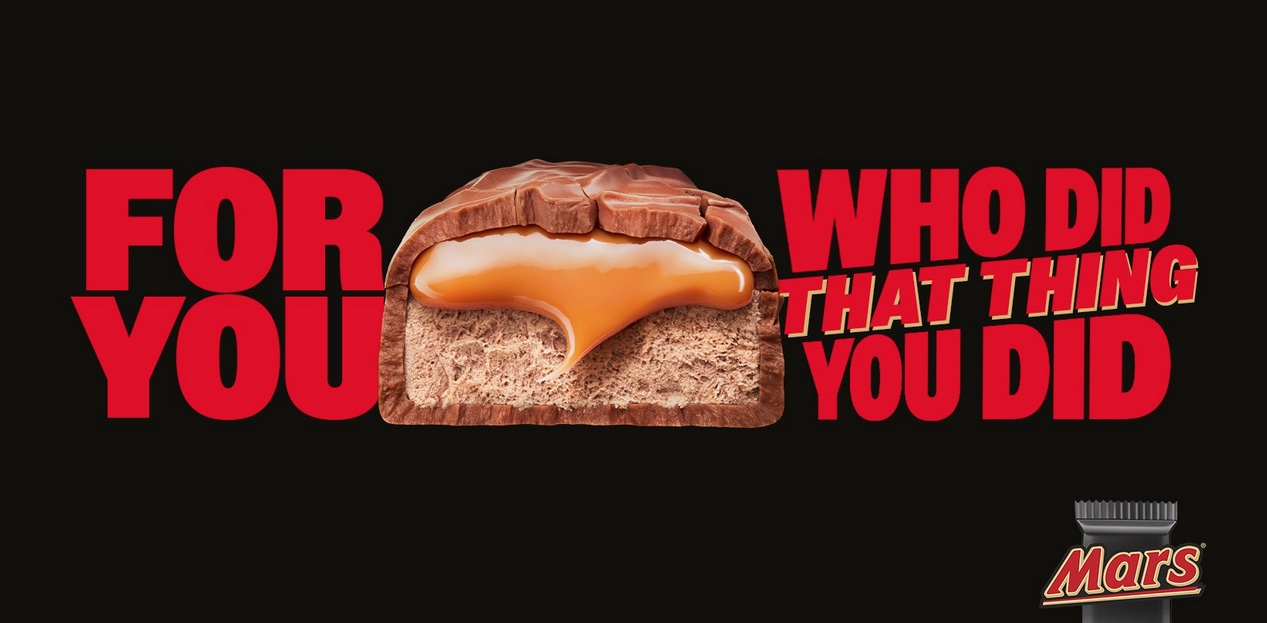 A large part of the campaign is also contextual, OOH placements outside targeted 'flat-pack' stores and on Punt Road celebrate consumers building flat-pack furniture without dismantling their relationship and navigating peak traffic without laying on the horn respectively. While a dynamic radio campaign created with Spotify outlines what constitutes as a thing according to time of day and playlist-type to help people on their daily run, at work and on the way to yoga work out whether they've yet earned a Mars bar.
Says Richard Weisinger, portfolio director, Mars Wrigley: "For you who did that thing you did is an enduring platform that helps us refresh the MARS brand, giving it a clearly differentiated role for consumers while not sacrificing the joy of a chocolate-nougaty treat. We wanted to build on the brand's history while establishing the right role in an evolved snacking landscape. We're looking forward to exploring where we can take 'For you who did that thing you did' for years to come and evolving it to reflect people's behaviours and trends."
Says Tom Wenborn, executive creative tinker at Thinkerbell: "Repositioning an Australian icon like Mars Bar is a privilege, an honour, but above all else… a thing. The team had a great time finding a fruitful platform that was also a bit of a chewy mouthful, much like the bar."
The platform will also lead to a number of small activations, to surprise, delight and most importantly supply chocolate to those who have just done the mildly impressive. Things such as make it to the end of a press release from an agency you don't even work at – a definite thing. To claim your chocolate-covered caramel nougat prize, email foryouwhodidthatthingyoudid@thinkerbell.com. Terms and conditions apply*.
*Prize is a MARS Chocolate Bar 47g. Only available for Australian residents and limited to one prize per person. Prize is limited to the first 20 respondents due to corporate responsibility and not wanting the person sending them doing too many things. Ends 30/06/2023. Bars will be sent out w/c 10 July 2023.
Client: Mars Wrigley
Creative Agency: Thinkerbell
Media Agency: EssenceMediacom
Production Partner: Playtime / Photoplay
Casting: Peta Dermatis – Studio P
Editor: The Editors
Sound: BangBang
Mars Bar CGI Production: Electric Art