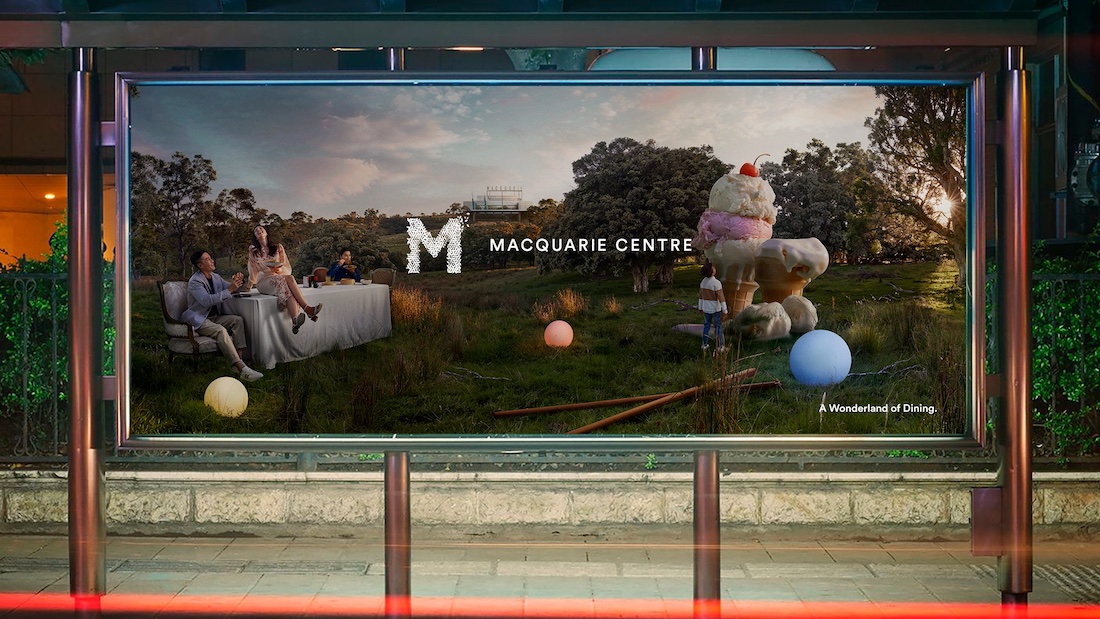 Independent creative agency HERO and AMP Capital have partnered to develop a new brand positioning and launch campaign for Macquarie Centre, Sydney.
Forget online carts, disoragnised shopping sites and missed deliveries, the campaign invites shoppers to leave the house and discover a real-life wonderland of entertainment, food, fashion and lifestyle under one roof.
Says Andrew Wolfe, senior marketing and brand experience manager at AMP Capital: "We really had fun with this one. We didn't just want to bring to life the breadth of our offering, but also the transformational customer experience."
Says Ben Coulson, chief creative officer, HERO: "Macquarie Centre is a place you really can get lost – in a good way – so we wanted to position it as a true utopia for shoppers. A place where magic can and does happen."
The launch campaign was photographed by Andreas Smetana, who artfully morphed objects into larger-than-life elements that dominate the scenery. Giant ices creams, and human-size sunglasses, shoes and cosmetics are set against a magical landscape to create a visual anecdote of the augmented enjoyment, and discovery that customers experience at Macquarie Centre.
The enchanting campaign appears across OOH, in-store, owned channels and content, and will be rolled out into social and activation.
Creative Agency: HERO
Chief Creative Officer: Ben Coulson
Strategic Consultants: Dominic Walsh and Bob Price
Creative Director: Christian Duffy (AD)
Creative Director: Phil Shearer (CW)
Senior Producer: Jeff Edwards
Account Director: Gina O'Donnell
Client: AMP Capital
General Manager: Natalie Douglas
Senior Marketing Manager: Andrew Wolfe
Marketing Manager: Amanda Gregory
Stylist: Hayley Cooper
Styling Assistant: Sarah
Production Company: Flint
Photographer: Andreas Smetana
Producer: Christina Gerace
Producer: Petra Valent
Production Assistant: Jasmine Frias
Art Department: Suzanne King
Art Dept Assistant: Jojo Wu
Hair & Makeup: Sam Powell
Gaffer: Jeremy Graham