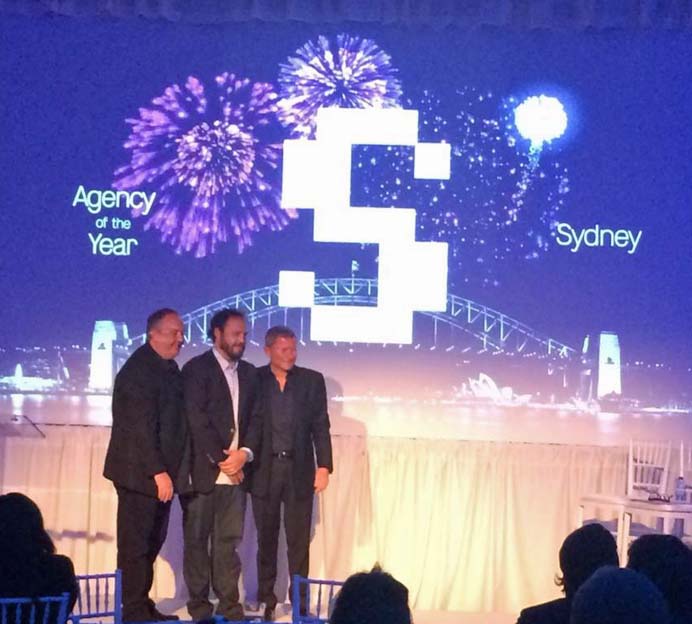 For the third year in a row Leo Burnett Sydney has taken out the Agency of The Work honour with the most number of acceptances in Campaign Brief's The Work 2014 annual.
Leo Burnett Sydney had 17 acceptances making them the clear #1 this year. Two New Zealand agencies placed second and third with Clemenger BBDO Wellington with 13 acceptances and Colenso BBDO Auckland were third with 11 acceptances. Leo Burnett Sydney also topped the past two years of The Work with 18 and 17 acceptances respectively. (Leo Burnett Sydney ECD Andy DiLallo is pictured above on stage in New York at LB's internal awards with Mark Tutssel and Jarek Ziebinski).
Whybin\TBWA Sydney was ranked equal #4 in the region with 8 acceptances, followed by Clemenger BBDO Melbourne, DDB Melbourne and GPY&R Melbourne all at equal #6 with 7 acceptances. JWT Sydney and The Monkeys, Sydney were placed equal #14 with 6 acceptances each.
This year just 380 ads and campaigns from 156 agencies were accepted into The Work 2014. The Work annual is the only permanent record of the very best advertising created in our region. The annual gathers the winners and finalists from all the important shows in the region and around the world. Acceptances in The Work are counted in the Campaign Brief Asia Creative Rankings.
The Top Performing Agencies in The Work 2014
#1 Leo Burnett Sydney (17 acceptances)
#2 Clemenger BBDO Wellington (13)
#3 Colenso BBDO Auckland (11)
#4 Cheil Worldwide Seoul (8)
#6 Clemenger BBDO Melbourne (7)
Ogilvy & Mather Singapore (7)
Ogilvy & Mather Hong Kong (7)
Ogilvy & Mather Mumbai (7)
Revolver/Will O'Rourke (7)
DDB9JaymeSyfu/Digit Manila (6)
Leo Burnett Group Thailand (6)
#20 Saatchi & Saatchi Auckland (5)
Clemenger BBDO Sydney (5)
Leo Burnett Melbourne (5)
TBWA/Santiago Mangada Puno Manila (5)
The Top Performing Agencies in Each Country
Clemenger BBDO Melbourne (7)
Clemenger BBDO Wellington (13)
Colenso BBDO Auckland (11)
Saatchi & Saatchi Auckland (5)
Ogilvy & Mather Hong Kong (7)
Inspire Advertising Taipei (3)
Ogilvy & Mather Mumbai (7)
DDB9JaymeSyfu/Digit Manila (6)
TBWA/Santiago Mangada Puno Manila (5)
Cheil Worldwide Korea (8)
Leo Burnett Group Thailand (6)
Creative Juice Bangkok (4)
Ogilvy & Mather Singapore (7)
BBDO Proximity Malaysia (3)
Beacon Leo Burnett Tokyo (4)