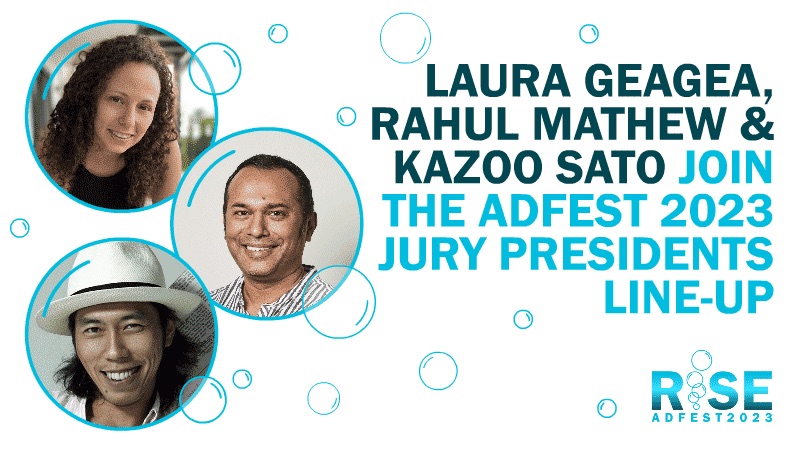 ADFEST has announced that Laura Geagea, regional managing director, Sweetshop China, Asia and MENA has accepted the invitation to become jury president of Film Craft Lotus and New Director Lotus at ADFEST 2023, Rahul Mathew, chief creative officer, DDB Mudra Group, has been appointed jury president of Film Lotus, Outdoor Lotus, Press Lotus and Radio & Audio Lotus and Kazoo Sato, chief creative sustainability officer, TBWA\Hakuhodo and TBWA\Asia, will preside over the Design Lotus and Print & Outdoor Craft Lotus as jury president.
Geagea began working with Sweetshop Asia in 2015 as a freelance producer and was soon brought into the fold as executive producer Asia and MENA. She opened Sweetshop's office in Shanghai in 2017 and today Sweetshop China is the fastest growing office in a network of seven, while Sweetshop Asia is the second. Under her leadership, Sweetshop Shanghai became the fastest growing office in a network of eight, with the office's revenue increasing 47% in 2021.
A Lebanese native, Laura Geagea was born in Canada and spent much of her childhood between Beirut and Halifax, before moving to Asia in her early twenties. She speaks six languages, which has helped to develop as a genuinely international creative female leader working to elevate the advertising industry in Greater China and Asia-Pacific. She has cultivated a roster of local talented directors in Shanghai, Bangkok, and Singapore, as well as production solutions with Sweetshop's global director roster.
She has led the Sweetshop team to produce commercials for major brands such as Lux, P&G, OnePlus, Budweiser, Michelin, Vivo and Vidal Sassoon, and helped win business in Asia for brands such as Olay, Agoda, Spotify and Tiger Beer.
Says Geagea: "I'm honoured to have been invited by ADFEST to lead the Film Craft Lotus and New Director Lotus Juries for 2023. I love nothing more than watching good work and am very excited that this year we are finally back to all being able to attend the festival in person. After years of stop start work due to Covid it will be fantastic to get back to focusing on the craft, the creative talent and the work. I cannot wait!"
Geagea was named in Campaign's Women to Watch Greater China 2022.
Rahul Mathew has been appointed jury president of Film Lotus, Outdoor Lotus, Press Lotus and Radio & Audio Lotus for ADFEST 2023.
Although Mathew's dream of becoming a professional sports person was never realised, its values have shaped him in his advertising career. He is proud to say that he is "fiercely competitive, a big believer in teamwork, a relentless dreamer and gloats just right about his wins and hurts just enough from his losses".
Mathew has contributed to DDB Group being ranked No.1 in Asia and No.12 in the world by WARC. DDB Mudra Group is one of India's most awarded creative companies with back-to-back wins at Cannes Lions 2018, 19 & 21, No.2 at Effie India 2020, winner of Grand Prix at Spikes 2019 & 21 and golds at WARC & WARC Prize for Asian Strategy. Mathew joined DDB Mudra at the beginning of 2014 as creative group head – West from McCann Erickson Mumbai, where had had been executive creative director. He became national creative director of DDB Mudra Group in 2017 and was promoted again to chief creative officer in 2021.
Under his leadership, the Group has been awarded the inaugural D&AD Impact prize fund and won an impressive collection of awards and honours at Cannes Lions, Spikes Asia, One Show and D&AD Impact, and was recognised as one of the Top 20 Most effective and creative agencies in the world by Effie Index 2020.
Says Mathew: "ADFEST isn't just a celebration of creativity, it also sets a standard for the region to hold up and for the young to learn from and aspire for."
Mathew's previous stints include Y&R Kuala Lumpur, where the network won its first ever Grand Prix at ADFEST during his tenure. While he was at McCann Mumbai, the office won close to a 100 metals and honours at local and international shows, including a Grand Prix at Spikes Asia, multiple pencils at One Show and Lions at Cannes. Mathew has ranked 3rd among India's & 19th among Asia's Most Awarded Creative Leaders by Campaign Brief Asia Creative Rankings 2021 and among the top 10 copywriters in India on multiple occasions.
Kazoo Sato will preside over the Design Lotus and Print & Outdoor Craft Lotus as Jury President.
Sato began his professional career at Sony Music Entertainment as a music producer in 1997. After three years, he moved agency-side, joining Leo Burnett Tokyo as executive creative director for its global brands. In 2009, Sato joined TBWA\HAKUHODO and after four years as executive creative director, he was appointed chief creative officer.
Since joining TBWA\HAKUHODO in 2009, Sato has helped the agency secure awards across all major international award shows. These include Gold Cannes Lions, Clio Grands Prix, D&AD Yellow Pencils and an ADC Grand Prix. He has also led the agency to win seven consecutive Creative Agency of the Year titles from Campaign Asia, more than any other creative agency in Japan.
In 2022, Sato became the first chief creative sustainability officer of TBWA\HAKUHODO and TBWA\Asia and is currently furthering his expertise in the field as a Graduate Student at Sophia University with a focus in Global Environmental Studies to elevate the scale of his creative work beyond the boundaries of advertising.
In 2021, he was one of a handful of top creatives invited to respond to a project brief set by Japan's largest public-sector charitable group, the Nippon Foundation, to reimagine public toilets in Japan. His voice-activated hemispherical Hi Toilet became one of the project's highlights. Sato worked on the design with members of the TBWA\HAKUHODO Disruption Lab, which develops innovative ideas that involve brands in cultural projects, and it was established in the heart of Shibuya financial district.
Says Sato: "I am delighted to be appointed as the Jury president of Design Lotus and Print & Outdoor Craft Lotus at ADFEST 2023. We expect brands to be living their purpose. We expect them to have an impact and behave responsibly. Now we're looking for brands that are going beyond this. It's not about superficial gestures. It's about being authentic and genuine. Making an impact where you actually can. Pushing boundaries, breaking conventions, utilising new tech and amazing craft– but doing so because it's right for the brand, not because you're chasing the latest new thing or even award metals. Can't wait to meet everyone in person."
ADFEST LOTUS AWARDS 2023:
ADFEST is accepting entries to the 2023 Lotus Awards for the ADFEST 2023 festival, which will be held under the theme, "RISE", at PEACH, Royal Cliff Hotels Group in Pattaya, Thailand Thursday 23rd March 23 to Saturday 25th March 2023.
There are 20 categories of Lotus Awards: Brand Experience Lotus, Commerce Lotus, Design Lotus, Digital Craft Lotus, Digital & Social Lotus, Direct Lotus, Effective Lotus, Entertainment Lotus, Film Craft Lotus, Film Lotus, INNOVA Lotus, Lotus Roots, Media Lotus, Mobile Lotus, New Director Lotus, Outdoor Lotus, PR Lotus, Press Lotus, Print & Outdoor Craft Lotus, and Radio & Audio Lotus.
The Final Deadline for entry submission is Friday 13 January 2023. For more information, visit www.ADFEST.com
ADFEST is a non-profit-making entity that nurtures and supports the creative industry in the Asia Pacific and MENA region. It is one of only 8 regional creative festivals included in the WARC Creative 100 Rankings.