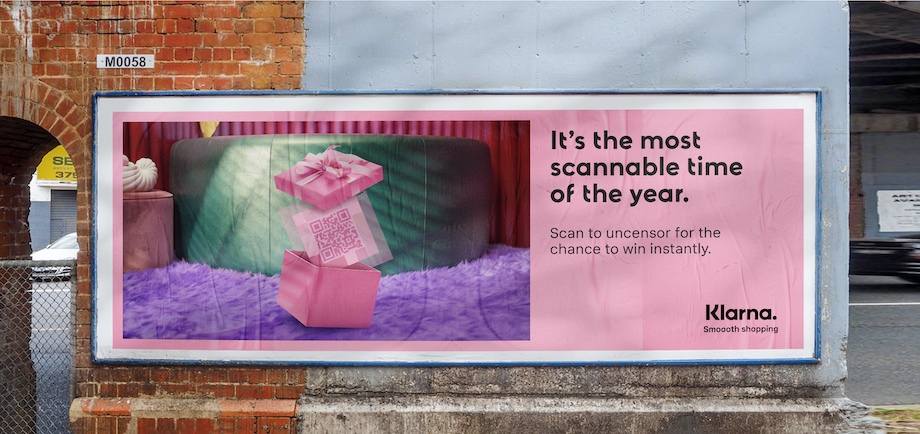 As an extension of its ongoing 'uncensored' campaign Swedish shopping app​ Klarna is celebrating Christmas by gamifying street posters across Australia via Thinkerbell.
For the past two decades, QR codes have prompted interaction with advertising in Asia. But only recently, Australians have begun adapting to, and engaging with these tiny pixelated portals.
Recognising the growing behaviour of Australians willing to interact with QR codes in the COVID-normal world, ​Klarna​ and ​Thinkerbell​ have leveraged the technology to create interaction in what are traditionally seen as 'awareness only channels' – such as TV and OOH.
From today, one ​Uncensored Klarna XMAS Giveaway street poster​ will appear in each major city across the country – Sydney, Melbourne, Brisbane, Adelaide, Perth. And will house 1 x smoooth giveaway per day hidden behind a unique QR code.
With prizes made up of cult favourites like Yeezy Slides, Nike Max Air Sneakers and luxe Jacquemus handbags, there's something for everyone to enjoy – naughty or nice.
Says Andrea Darling, head of marketing, ANZ, Klarna: "It's been a crazy year – and not necessarily in a fun way. So, it has been important for us to think about how we can lift holiday spirits and make gift giving (or receiving) that little bit easier. Our Klarna Uncensored XMAS Giveaway​ ​is a nice way Aussies can elevate their shopping game or spice up a Christmas stocking. Plus, who'd ever say no to freebies! Especially when they're as silky smooth as ours."
To unlock prizes, all urban-trotters will need to do is scan the QR code to reveal their festive fate.
Says Adam Ferrier, co-founder and chief thinker at Thinkerbell: "We all know that QR codes are now a thing, and we're excited that they allow traditional one-way media to be so easily interactive. They get people to act while their thoughts and feelings play catch up."
The ​Klarna 7-day Uncensored XMAS Giveaway​ will wrap up across the country on December 17 after a total of 35 (major) smoooth prizes have been given away.
The ​Klarna 7-day Uncensored XMAS Giveaway​ has been developed as an extension to the recent launch of Klarna K-Rated. A campaign that encourages shoppers to scan 'censored' QR codes to unlock deals, wishlists and more.
Thinkerbell is Klarna's creative and media agency.