Karicare Toddler and Anne Geddes, the Australian photographer dubbed 'the original baby-photo influencer', have partnered to launch a new campaign via CHEP Network, that aims to address the pressure that Australian parents feel to be picture-perfect.
The new campaign sees Geddes reimagine her iconic photography style to support parents by demonstrating that real parenting moments are just as perfect as the stylised version we see on social media.
Instead of imagery of perfectly calm and peaceful children that was behind Geddes's rise to fame, the campaign showcases children at their messy, honest and chaotic best – throwing tantrums, 'rearranging' the set and more – all against Anne's iconic, ethereal style.
The Feed the Real campaign is supported by research that found that almost all (96 per cent) of Australian parents believe there is pressure on them to be perfect, with social media proving to be a key contributor to that pressure, with more than three-quarters (78 per cent) believing social platforms contribute to the pressure they feel, while three out of five (61 per cent) often feel bad after seeing 'perfect' images of other families on social media.
Says Geddes: "My journey as a baby photographer began before the rapid growth of social media and the ubiquitous sharing of our lives online. Nowadays, I see new parents comparing themselves to the overly perfect and Insta-friendly images and videos that appear in social media.
"This creates an unhealthy pressure on parents. It almost makes it competitive, and I don't think that's right. I've created images with Karicare Toddler that aren't the typical Anne Geddes perfect, but in another way they're perfect as well! We have captured the real moments we all know, which are just as beautiful. I hope this campaign starts an important movement where we all start to portray a more realistic view of parenting."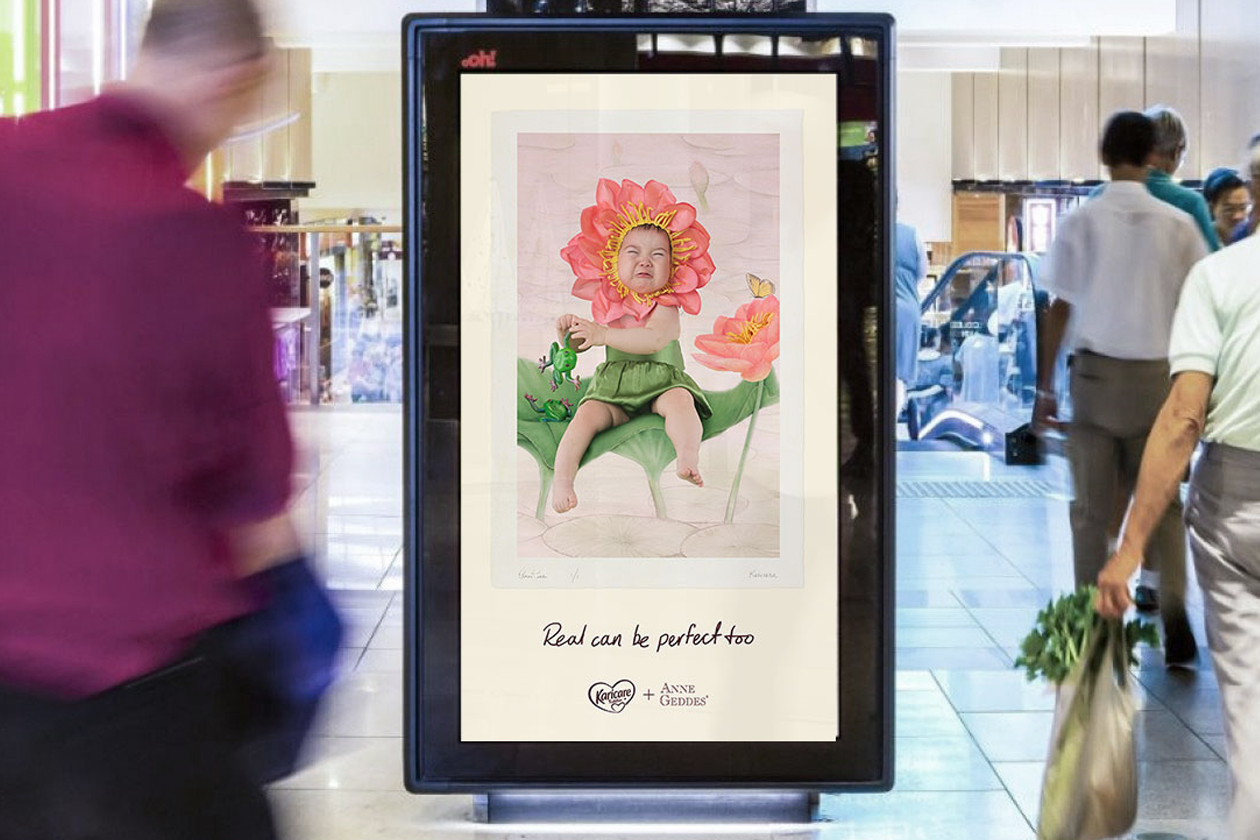 Says Ximena Ramirez-Arango, head of marketing, Karicare Toddler: "Parenting is hard and it's clear that social media is adding to the pressure we all feel. But parenting is also amazing and rewarding, so at Karicare Toddler, we want to celebrate real parenting with both its highs and lows and help ease some of the pressure that parents are experiencing.
"The #KaricareToddlerFeedTheReal movement is all about supporting and encouraging parents to see the messy, chaotic reality of parenting as just as perfect as the filtered version we see online. We want all parents across the country to feel comfortable sharing those real moments, and to change what we see in our social media feeds."
The campaign imagery and content rolls out across digital, social, OOH, influencers, PR, in addition to a film featuring Geddes on-set that talks to the perfection that we can and should see in the real parenting moments we all experience each day.
Says Justin Ruben, executive creative director, CHEP Network: "This has been a wonderful opportunity to work with the Karicare Toddler team and an icon like Anne Geddes to help change the way parents think about what they see on social media and how they can make a positive change by simply embracing all the crazy and wonderful moments that parenting brings, rather than worrying about having to present a picture of perfection. If we make a small change to how we present our experience of parenting on these platforms and instead, celebrate the real as being perfect too, we can make a positive impact on parents across the country."
Parents can learn more about Karicare Toddler's Feed the Real campaign and partnership with Anne Geddes by visiting: www.karicaretoddler.com.au/annegeddes
Client: Danone – Karicare Toddler
Head of Marketing – Core Milks and Kids ANZ: Ximena Ramirez-Arango
Brand Manager – Karicare Toddler: Rachel Wakefield
Creative, Media & PR: CHEP Network
Production Company: Blonde + Co
Photographer: Anne Geddes
Agent: Blonde Artists
Executive Producers: Aida Angotti & Ann Lawlor
Producer: Natalia Loff
Production Assistant: Jessica Holguin
Photo Assistant: Angelos Rompolis
DIT: Mike Webb
Cinematographer: Rhadames Julian
Sound: Matteo Liberatore
BTS Photographer: Ann Lawlor
Wardrobe Stylist: Jen Daniels
Set & Costume Designer: Dawn McGowan
Casting Director: Jym Benzing
Nurse: Mika Petradellis
Location: Blonde Studios, NYC