To launch the new one-of-a-kind Veloster, Hyundai has teamed up with renowned designer Emma Mulholland to create a unique double-sided jacket to reflect the vehicle's practical and thrilling sides.
Created by Innocean Australia, the print, content and social led campaign has been brought to life in conjunction with Bauer Media. First, a consumer promotion via Elle Magazine's digital channels called for an aspiring designer to work alongside Mulholland to help create the Veloster double-sided jacket.
Following this, the design and creation of the jacket was told through a number of videos as well as editorial and online content across Elle and Bauer publications.
The pinstriped day side of the jacket features red stitching to match the car's red line leather interior along with a hidden pocket that speaks to its hidden third door, highlighting the car's practical side. The after-hours side of the jacket aims to seamlessly take the wearer from daytime and office to nighttime, street wear. On the back, an embroidered sun passes the baton on to the moon while black and yellow banding reflects the two-tone roof and speed-stripe sleeves talk to the Veloster's sporty nature.
Readers also have the chance to win the jacket plus an additional jacket will be auctioned to raise funds for the Australian Cervical Cancer Foundation (ACCF). Hyundai has already received 165 entrants into the competition to win the jacket.
Photographer Juliet Taylor of Pool Collective shot the concept of the double-sided jacket, blending her car experience with a fashion shoot approach for the project.
Says Steve Jackson, executive creative director, Steve Jackson, Innocean: "Not only does the Veloster have two sides but we also discovered Veloster fans do too. More than most, there is a work appropriate, professional sensible side and a more carefree, out-of-office adventurous side. As they also tend to be fashion-conscious women, the idea was to produce the perfect piece of clothing for those who live a double life."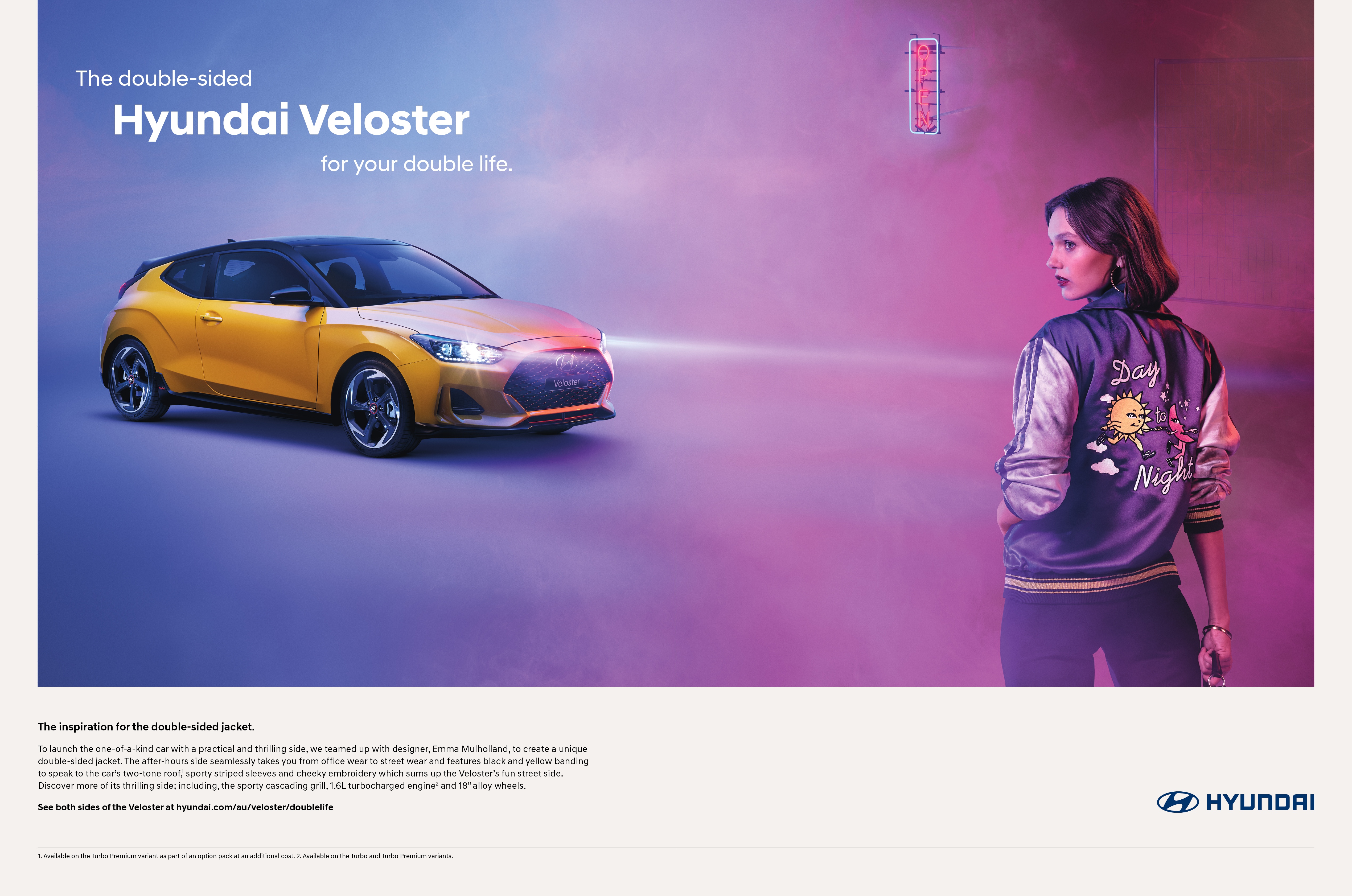 Says Bill Thomas, director of marketing, Hyundai Motor Company: "The Veloster market is a niche one, so we wanted to be targeted with our approach to create something that would really appeal to them. Furthermore, being a three-door coupe provided us the opportunity to do something a bit alternative given it's so different to all other Hyundai cars."
Client: Hyundai Motor Company
Director of Marketing: Bill Thomas
Product Marketing Manager: Helen Gilmartin
Marketing Specialist: Kelly Chung
Agency: Innocean Australia
Executive Creative Director: Steve Jackson
Art Director: Katie Kidd
Writer: Charlotte Taylor
Group Business Director: Philip Sherar
Senior Business Director: Jo Movizio
Account Manager: Dakota O'Brien
Agency Print Producer: Warrick Nicholson
Publishing Company: Bauer Media
Production Company: The Pool Collective
Photography: Juliet Taylor
Retouching: Cream