As an experienced entrepreneur and 30-year veteran of the entertainment industry, Kate Tiller's latest business A Perfect Space is all about digitising one of the last remaining analogue processes in the business, creating additional transparency and making Australia a more desirable filming location.
If Kate Tiller knows one thing it's how to fail forward. The tenacious entrepreneur is now six years into her latest venture A Perfect Space, and she's using her natural determination and willingness to learn from her past ventures as she creates genuine change in the entertainment industry.
A Perfect Space connects film producers, photographers, locations and event managers to spaces using a sophisticated data aggregation system. Legacy analogue systems mean filming locations have typically been difficult to find as they aren't in a centralised location, while pricing can be opaque and inconsistent.
As its take-up gathers pace, A Perfect Space is having a profound impact on the Australian and global film industries, making the lives of producers, directors, photographers and locations scouts easier, as well as supporting filming locations and helping local councils and regional towns attract interest.
Says Tiller: "Started up several ventures and this time I wanted to build something from scratch that solves this global problem and creates genuine change in the industry."
Tiller's more than 30 years of experience means she knows exactly what problems she's tackling and the legacy systems she's up against, but she's undeterred.
"This business is very fragmented, and there's a lot of smoke and mirrors. For me, bringing real honesty and integrity is important," says Tiller.
Her previous start-ups include Love to Share, a cooking series that aired on Network 10 in 2012. The idea for her latest venture came as she was scouting kitchen locations for the show.
"A producer was having trouble finding a filming location for our show, so I let them use one of our personal properties for free. In three days, they slept in all the beds and didn't make them, ate all my food, smashed a window and broke a lamp. All this without shooting the scene that I'd asked them to shoot. It took them 10 months to get me the content which I threw in the bin the day I received it," Tiller recalls.
"The whole experience broke my brain, so I thought 'you know I'm going to deal with this problem'. I can do better. So that's what I did."
At a simple level, it's all about honesty and determination for Tiller.
She'll been working constantly since she graduated from university with a double degree in economics and marketing, starting out in advertising and moving through various industry roles before building her own businesses. Four of them to be precise.
"I started work the day after university and I've never stopped. That says a lot about who I am," she explains.
"I want to be known for my resilience, my tenacity, my conviction. It's not that I've never given up – it's that every time I give up it makes me stronger. I'm a fast learner," says Tiller.
Starting companies in the past has brought some valuable lessons for this entrepreneur, who is not afraid to face up to her past mistakes.
"I adapt very well to change. I don't hold onto the past and I don't look backwards. I'm very much into looking forward in life and always have been," she says.
Firstly, she has learnt how crucial it is to hire the right people and partner with people with like-minded views.
"I surround myself with people that complement my weaknesses. That's important because my industry can be very ego-driven, so if you can know your strengths, surround yourself with good people and learn from them, then you will succeed."
Similarly, she will never again take her eye off the bank account or delegate something she doesn't understand to others, because doing so can lead to funds being drained very fast.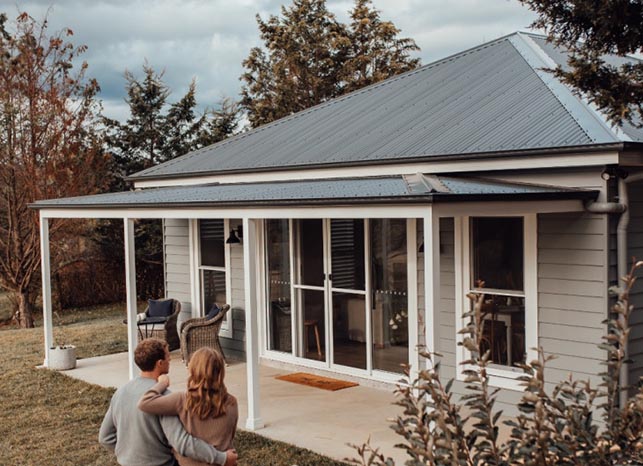 Her other piece of advice to any aspiring entrepreneur is to read the book 'Rocket Fuel' by Gino Wickman and Mark C. Winters.
"This book completely changed my outlook on life and I'd recommend it to anyone," she says.
Tiller admits that despite support and partnerships from well-placed entertainment industry sources, she thought starting A Perfect Space would be easier and simpler that it was.
"I didn't think it would take six years and to be honest, I didn't think technology would be so difficult. But it's been an incredible experience. And I can genuinely say we're solving a global problem.
"We're tackling one of the last manual processes in the entertainment industry. Because whether you want something for TV or you want to shoot your next catalogue, our network offers it all in a single place for a single price. No one has ever built a website that connects the two using logistical information," she adds.
Kate is a mum to three teenagers, including twins, and grew up in regional Victoria, where most of her family still lives. She still rides horses whenever time allows.
She is therefore acutely aware of the harsh challenges that regional Australia has faced in the past few years, from devastating bushfires and floods to the far-reaching impacts of the COVID-19 pandemic. It follows that for her, another motivator in building A Perfect Space has been to put regional towns back on the map.
"Look at the breadth and scope of the stunning locations we have in Australia, from Broken Hill to Tasmania. There's only one reason that we don't get as much filming here as we should and that's because you have to go to 17 different websites to find the information. I need to change that.
"It's a huge growth industry for the Australian market it's going to build jobs. There are so many beautiful elements to our industry and I'm passionate about taking it forward."
If you'd like to discuss opportunities or learn more email kate@aperfectspace.com.au. For more information on A Perfect Space, you can also visit the website.