'If you, or someone you know ….' We know too well the refrain, and the cry for help. Behind the dedicated teams of social workers, two names stand out, says Gawen Rudder, principal of The Knowledge Consultancy, Sydney.
Jeff Kennett, familiar to most as the feisty former Premier of Victoria in the nineties. In 2000 he became the inaugural chairman of Beyond Blue (the National Depression Initiative.) Less well known perhaps, was Gavin Larkin (pictured above), who died nine years ago, but lives on as founder of RUOK?
Both, as it happens, were admen.
Fresh out of John Clemenger, Kennett launched KNF Advertising in 1971, and remained involved in the business until his public life career took over some years later. When that came to an end he threw his considerable energy and talent into a positive post-political after-life.
Sadly, Larkin enjoyed – if that is the correct word – a shorter, but incredibly fulfilling life; and a brief overview of the man however is worth recounting: A close colleague described Gavin as, 'A quintessential alpha male', but he was very much a renaissance man. The young Sydney-sider was a talented 1st XV footballer, basketballer, tennis player and an outstanding skier.
His dad Barry was a well-known management consultant, a big man but one who hid his demons. Young Gavin started life as a 'chalkie' on the trading floor of the old Sydney stock exchange. Restless, he dabbled in restaurant management, launched his own clothing line and finally settled into an advertising career as a GAD at Singleton Ogilvy & Mather, eventually taking on the role of CEO at WPP agency The Brand Shop in 2006. But life was not a dream, far from it. His father had committed suicide in 1995. Some years later, on the same day Gavin was diagnosed with lymphoma his 10-year-old son Gus was going through the trauma of inoperable brain tumour surgery. Life was anything but being OK. There were dark days. But he threw his energy and creativity into founding the suicide prevention initiative RUOK which he launched in 2009. His premise, which honoured his father, was, 'a conversation could change a life.' Gavin Larkin died in September 2011, less than a week after he celebrated the third RUOK Day. Of all the tributes to his life and legacy, one jumped out from the Campaign Brief blog, "Another good man gone."
Today, too many months into what has become 'the new normal,' loneliness, fear, job loss, financial stress, frustration, isolation and depression have become the imperfect cocktail of a very different kind of epidemic. An epidemic that affects almost every occupation hit by the pandemic. Not physical, as with coronavirus, but mentally. Those working in real estate for example, deal with different issues compared with those of us adjusting to life in the people business we call adland. A series of apps, each tailored to the specific professional and industry need, suggests the sort of help that might be needed to ease the everyday issues as we deal with an uncertain future.
Public health advocate, David Stanley, founded Convenience Advertising in 1984. Fourteen years later the agency formed Utility Creative, a related company that works with various industry sectors to provide design and technology solutions for public health, social problems and the major preventable chronic diseases including diabetes 2, cardiovascular disease, obesity, mental health, sleep and fatigue, and perinatal health.
UC aims to reduce the strain on essential services in society by developing programs that empower people, drive efficiencies, promote better health outcomes, early intervention and prevention, health lifestyle tools that have a positive impact for the individual, workplace, community and society.
Over the past three years, Utility Creative has created apps for security and policing, the minerals and mining industry. The team has just completed the RealCare-branded app for RISEx and the 93,000 people working in the estate sector. The app was launched to industry leaders at a virtual conference platform with journalist Jessica Rowe, Rev. Tim Costello and Jeff Kennett. It proved to be the biggest ever collaboration in the history of the cross-Tasman real estate industry. To quote the client, "It all came down to one word, trust."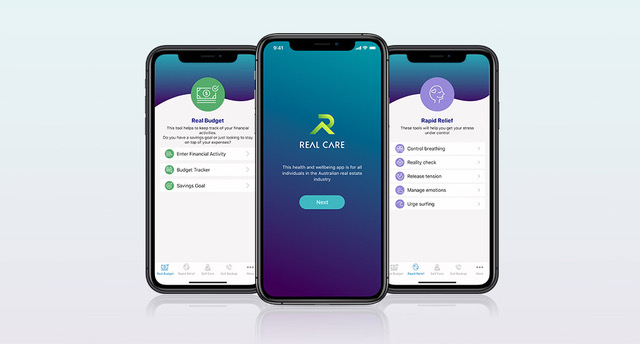 In each case, the apps dealing with mental health issues which arise, like suicide, alcohol and drug use, family stress, loneliness and isolation, financial stress and more. These apps have been made available to existing and former employees and their families across Australia, New Zealand and also Canada. Obviously, the needs and wants of those working in different sectors vary. As Stanley explains, "The content process will involve months of consultation with industry associations, employee bodies, and critically, the end users themselves. Qualitative and quantitative research with staff and management, rapid ideation and repeated focus group proving with representative groups prior to launch. With the RealCare app, the overriding objective is to facilitate the building of mindfulness and wellness apps by real estate professionals, for real estate professionals. That is the same process for all tools we build."
Analytic tools show downloads and screen-use figures exceeding 60,000 up to last month. User analytics show 4000-5000 per month, averaging 2-minutes per session, and return users up to 82 percent.
We have been in discussions about mental health in the advertising and marketing profession. Backgrounding our sector whilst the coronavirus pandemic and financial recovery remains in a state of flux will present its own raft of issues. Preliminary planning however is already underway with a launch date in the first half of 2021 anticipated.
Mental depression is a condition that is too often suppressed. We should be grateful for the likes of Gavin Larkin and his RUOK? legacy, the ongoing support of Jeff Kennett, his successor at Beyond Blue, Julia Gillard, and the ongoing work by Lifeline for maintaining preventive help.
Post Script: Early in his career, John Lennon is said to have built a protective shell around his emotions and in one of his darker moments, penned Help -in his words- "one of the most honest songs (together with Strawberry Fields Forever)" he had ever written. The lyrics of which are perhaps more pertinent today than ever before.