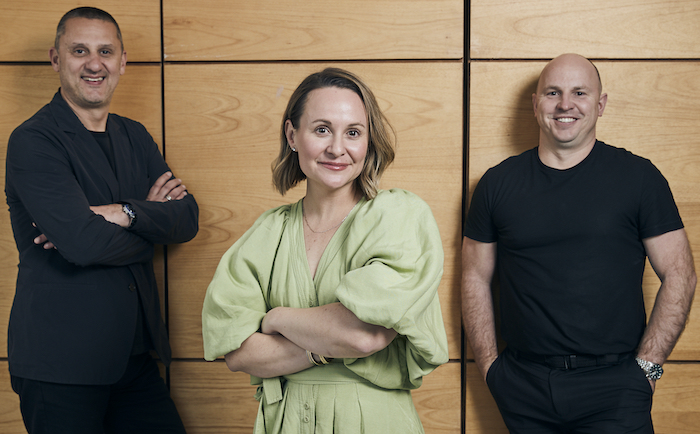 (Pictured L-R: Andrew Drougas, Renee Hyde, Chris Howatson)
Former CHEP chief operating officer and managing director – Melbourne Andrew Drougas has joined Howatson+Company as managing director – Melbourne.
Says Chris Howatson, founder and CEO, Howatson+Company: "I've had the pleasure of working with Drougie for many years. He deeply cares about his clients and how to grow their business. He creates a climate of understanding, care and ambition within the agency. And is truly energised by the transformational power of creative thinking.
"His experience will immediately elevate our business and help define our next era. I'm thrilled to welcome him and be working with him again."
Drougas will partner with the existing leadership team, including Renee Hyde who has been promoted to group managing director, and Rebecca Robertson who continues in her role as managing partner.
Says Drougas: "I'm so pleased to be joining the team – it already feels like home. Mumbrella Creative, Independent and Emerging Agency of the Year. D&AD Global Independent Agency of the Year. Cannes Global Independent Agency of the Year (Good). The list goes on and on, and in such a brief amount of time since it' inception because of a great group of people doing great creative work. It's such a simple yet hard formula to achieve but Howatson+Company have got the runs on the board, and I can't wait to add to the agency's continued growth and success."
Prior to joining Howatson+Company, Drougas was chief operating officer and managing director – Melbourne at CHE Proximity as part of his 15 year tenure across the Clemenger Group. He was central to the foundational team responsible for CHEP's early innovative capabilities and rapid growth.