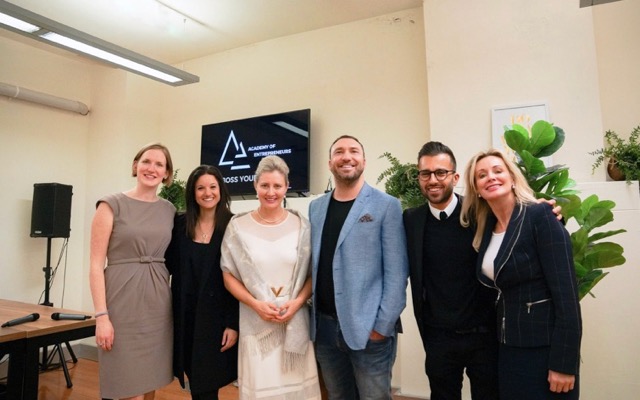 Two advertising industry leaders and The Academy of Entrepreneurs collaborated with the Australian Trade and Investment Commission (Austrade) to rebrand Australia as an Entrepreneurial Nation. As a part of the Australian Government's recently announced $3m initiative to develop a stronger Nation Brand; they joined forces over the course of 5 weeks to come up with unique ideas to contribute to the broader Nation Brand campaign.
The entrepreneurs presented their Brand Australia proposals to Fiona De Jong, head of Australia's Nation Brand at Austrade after being mentored by two creative industry leaders, both entrepreneurs in their own right, Duncan Harriss, managing director of award-winning integrated production company Limehouse Creative and Dan Aldridge, creative director, BBC Studios Australia and HyperKid.
Says Harris: "What brief could be more exciting than helping rebrand and better brand Australia! The Nation Brand initiative is one that resonates with our own industry as well citizens but perhaps more importantly, one that needs to be heard across the world by potential investors and talent to convince them
Australia is the place to come and realise their dreams. We believe that Australia is the perfect place to test and launch a start-up; because we are a multicultural, young, innovative nation with a strong economy. Entrepreneurs are a key voice, a current and future demographic and the engine of Australia."
The Foreign Policy White Paper of 2017 found that the current nation branding is fragmented with no unified representation of Australia internationally. It showed that the number of individual brands in the global market place was diluting the effectiveness of the collective promotion of Australia.
Says De Jong: "I had the opportunity to hear the top four pitches from extraordinary entrepreneurs of Australia. I was blown away by the creativity, and the expression and the imagination of these incredible young people in our country. Each of the ideas was executed in different ways but collectively articulated some really special attributes of this country and that's what this whole project was about. Let's get to the essence in a simple way about what's great about his country and let's celebrate that. The people in this course were able to do that over the course of a very short period of time so I do thank the Academy of Entrepreneurs for the opportunity to have this project come to life and for sharing with us the inspiring ideas from young entrepreneurs in our country."
Over the 5 week duration, 61 students and entrepreneurs from over 40 nationalities workshopped ideas and creative concepts to rebrand Australia. Students learnt branding and advertising 101, analysed what Australia has to offer as a nation and critiqued other successful global nation brand campaigns.
Says Aldridge: "The brief most certainly peaked my interest and my hunger to be part of an ambitious and exciting branding exercise. By sharing my expertise, wisdom and skillsets in branding and design, I feel the entrepreneurs have really got a lot out of it, with a wide range of integrated ideas and concepts being displayed."
Says Mills: "Often visitors and students come to Australia for the laid-back lifestyle and its natural beauty but end up wanting to stay due to Australia's young, multicultural, welcoming and strong & safe economy. This is a great opportunity for entrepreneurs to contribute to the Australia Nation Brand initiative with ideas designed to make it more attractive for talent of all ages to think about launching their own start-ups and careers in Australia."