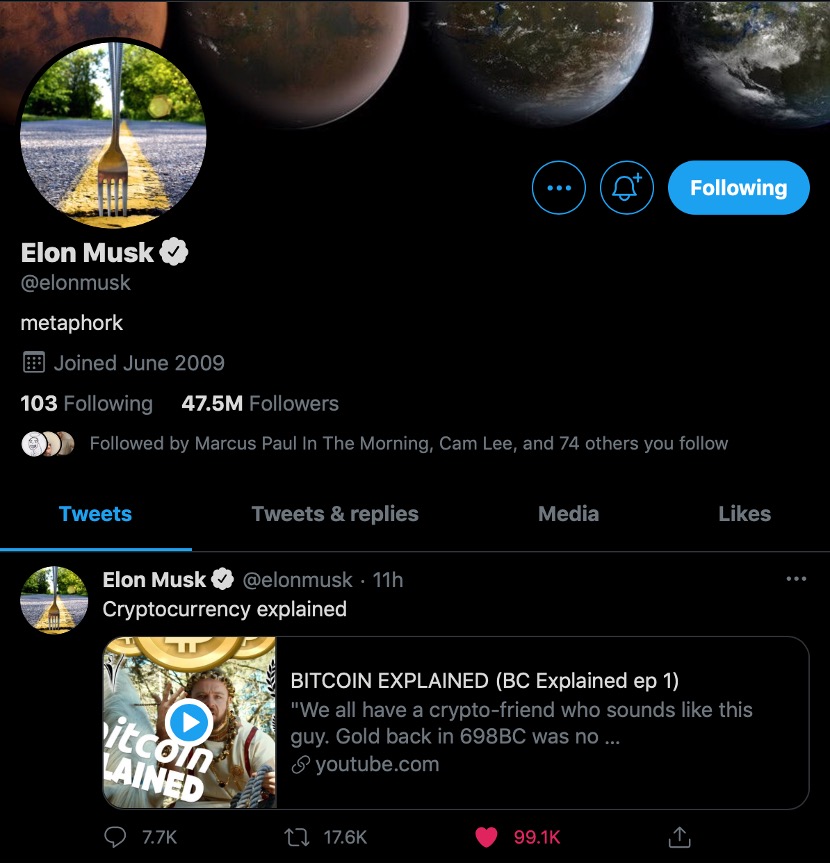 GUILTY writer/director Carl J. Sorheim woke up Sunday morning to find that his AACTA-nominated online video from 2018, Bitcoin Explained, had been tweeted by the world's richest man, Elon Musk.
The video, which went viral on Facebook in 2018, garnering over 4M views, had been sitting on about 200K views with YouTube until the billionaire posted the link and the simple tweet "Cryptocurrency explained" Sunday morning.
Says Sorheim: "I was busy on the post for a snappy turnaround KFC Supercoach job when the views on Cameralla's YouTube page went from 200K to just shy of a Million, and suddenly, we had about 20K new subscribers, which is nice."
The clip was posted by Swiss Banker Patrick Schueffel on LinkedIn last Tuesday, and within days, it had been viewed as a native LinkedIn video over 300K times.
Adds Sorheim: "We don't know if this is how it found its way to Musk, we're just stoked that he posted the link to our channel. Creating content is the easy part, it's getting eyeballs on it that's hard."
It's not the first time Sorheim has created viral content, with his short "Covered in Exposure" cracking 3M views on Facebook in 2017. Along with Cameralla, Sorheim recently received writers' room funding from Film Victoria to develop period comedy LadyLord with production company Disturbing Notions.
Says Jason Byrne, executive producer at Guilty: "We're of course thrilled about Musk getting on Twitter about this. On the one hand it's just a tweet, but on the other, it means Carl captured the attention of the richest and possibly busiest man on Earth for three minutes. And if that's not our main objective, I don't know what is!"
Check out some of Sorheim's work with Guilty here.