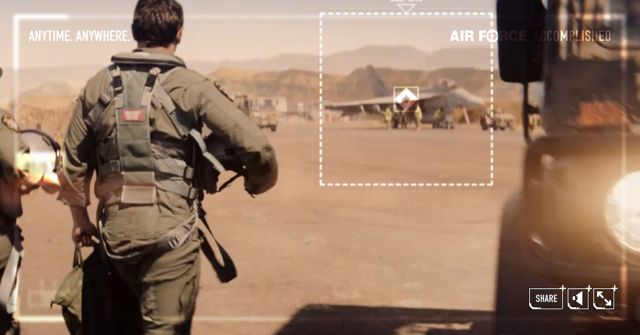 CB Exclusive: GPY&R and Defence Force Recruiting have created a new Air Force brand campaign in the form of an interactive film called 'Anytime. Anywhere'.
The story follows a full-scale mission scramble, which seamlessly changes time and place, while showcasing everything the Air Force has to offer. But it's online where users can delve deeper into the Air Force than ever before.
The interactive version allows users to click on any item of interest and uncover hidden content. Some of the items that can be found include 3D renders of aircraft, in scene interviews with personnel, job role information and live updates from serving men and women. Even the temperature of the tarmac and names of the military dogs are available.
Says Ben Coulson, chief creative officer of Y&R Australia/New Zealand: "Anytime. Anywhere is a brilliant example of where I think we are headed with film interaction. It genuinely amazes me that we can now make glossy brand ads that carry all the information of a complete campaign, can include hundreds of bespoke experiences and have limitless personalised calls to action. While this kind of project is mind bogglingly complex to execute, it's a really exciting skill set for the agency to master."
Says Kate Mathias, Air Force marketing manager: "Anytime. Anywhere not only continues to communicate that the Air Force is more than just pilots, but combines our brand message and recruitment process into one very entertaining, highly polished experience."
Says Matt Farrugia, George Patterson Y&R digital director: "The user experience needed to be simple, fluid and highly engaging; and with so much content, the platform weaves together a complex content matrix with each of the 145 hotspots being motion tracked in all 1500 frames of the film."
TV and Cinema Live Date: Sunday 19th May
Client: Defence Force Recruiting
Air Force Marketing Manager: Kate Mathias
Air Force Senior Marketing Officer: Tim Bowden
Chief Creative Officer: Ben Coulson
Creative Director: Chris Northam
Art Director: Nicholas Sellars
Art Director: Paul Meates
Head of Digital: Matt Farrugia
Digital Producer: Jess Krt
Lead Developer: John Wisolith
Director of Planning: Tom Ward / Mike Hyde
Client Service Director: Julian Bell
Account Director: Alice Mason
Senior Account Manager: Sally Borda
Production company: Prodigy
Production Co Producer: Serena Paull
Post Production: Fin Design
Sound production: Paul Baxter, Risk Sound