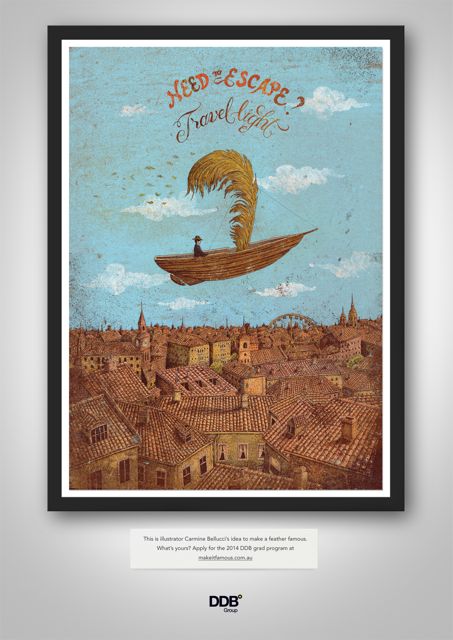 DDB Australia has this week launched a series of ads for everyday objects including a feather, lock of hair, twig and tumble dryer lint to name a few. The ads announce the launch of DDB's 2014 Graduate Program.
The theme of this year's Grad Program is 'Make It Famous'. Potential graduates will be given the challenge of making famous one of a number of mundane items, like a rock, pen lid, key, lint, toilet paper roll, lollipop stick, twig, lock of hair, Barbie's leg or a feather.
To launch the campaign, DDB partnered with a selection of talented illustrators to bring these objects to life in creative and unexpected ways. The objective was to make these everyday objects impossible to ignore, and the result is a series of uniquely illustrated creative ads.
Do you think you could make a rock famous? How about a pen lid, or some tumble dryer lint? Enter the 2014 graduate program here: www.makeitfamous.com.au.
Says Dylan Harrison, executive creative director DDB Sydney: "Advertising is about finding a truth in every product and revealing it in a creative way, and that's what we wanted to highlight with this campaign. The diversity of creative responses we received for the campaign is impressive and really allows us to see these ordinary objects in new and unusual ways."
The agency is looking for people who demonstrate passion, talent and creativity across marketing, advertising, digital, branding and PR. The unique program is a great platform for a successful career in communications, offering opportunities throughout the DDB Group. In 2013 DDB took on a record 8 graduates across various accounts and business departments including RAPP, Tribal, Interbrand, Westpac, Wrigley's, Volkswagen, McDonald's & Mango. DDB is renowned for the talent that comes out of it's Graduate Program, including chairman of DDB Australia / New Zealand and CEO of DDB Australia, Chris Brown.
Brown knows personally the benefits of the graduate program having risen from Graduate to CEO in only 16 short years.
Says Brown: "I was a graduate at DDB London in 1997. The DDB Graduate Program provided me with an incredible opportunity to work in a world-class agency amongst some of the industry's leading talents whilst in a very nurturing work environment.
"The DDB Graduate program has evolved with the changing nature of marketing communications and our graduates are offered training across all areas of the business, from production to digital, planning, account management, social media and PR.
"This year's 'Make It Famous' campaign provides applicants with the opportunity to demonstrate their strategic thinking and creativity and we are excited to see what the potential candidates come back with."
The work will be seen in universities across Sydney over the coming weeks to raise awareness of the DDB Graduate Program amongst potential candidates.
Picture 1- copy reads: This is illustrator Carmine Bellucci's idea to make a feather famous. What's Yours? Apply for the 2014 DDB grad program at makeitfamous.com.au.
Picture 2 – copy reads: This is illustrator Ben Sanders' idea to make lint famous. What's yours? Apply to the 2014 DDB grad program at makeitfamous.com.au.
Creative Directors: Guy Lemberg & Adam Ledbury
Creatives: Simon Friedlander & Daniel Ieraci
Graduates: Samantha Russo, Chelsea Lamond
Jacky Winter Group: Kate Banazi, He She It They I, Mark Godoy, Mimi Leung, Georgia Perry, Bobby Haiqalsyah, Ben Sanders
The Illustration Room: Chrissy Lau, Petros Bouloubasis, Michael Crampton, Rob Cowan, Kirsten Harris, Carmine Bellucci
The Drawing Book: Jouie Joyce, Bill Hope, Frant Kantor, Jo Ley, James Briscoe
Freelance: Lucas Savelli (Verdura)