CUB and Clemenger BBDO Melbourne are launching their latest Carlton MID work, which will go to air on Sunday.
It's the next chapter in the long running and much loved "Stay a little longer" campaign that reminds men to spend more time with their mates drinking Carlton MID.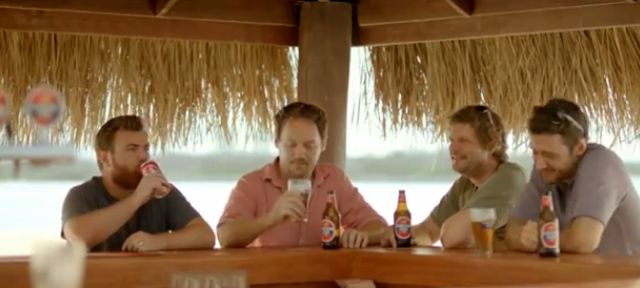 This latest work tells the story of a group of mates 'coincidentally' running into each other at a resort they've all taken their wives to, for some precious 'couple time'.
Coincidence was directed by Brian Aldrich and created by Ant Phillips and Richard Williams, the team responsible for the previous Carlton MID spots, 'Woman Whisperer' and "Speak Woman".
CUB general manager marketing, Andrew Meldrum, says there isn't a man in Australia who doesn't wish they could get more time with their mates.
Says Meldrum: "But it's getting tougher these days. Hopefully Australian blokes will appreciate our heroes' ingenious take on getting a bit more time with their mates."
The campaign will launch with 45 and 30 second spots, with additional 15 second spots to come later in the year. A Carlton MID branded website will also go live this week .
Chief Marketing Officer: Andy Gibson
General Manager of Marketing: Andrew Meldrum
Brand Manager: Kate McKenzie-McHarg
Assistant Brand Manager: Shencina Conway
Agency: Clemenger BBDO Melbourne
Creative Chairman: James McGrath
Executive Creative Director: Ant Keogh
Copywriter: Richard Williams
Art Director: Anthony Phillips
Senior Producer: Sevda Cemo
Managing Partner: Paul McMillan
Account Director: Nick Cohen
Senior Account Manager: Brendan Taylor
Planning Director: Michael Derepas
Production Company: Furlined /Finch Company
Production company: Furlined -Diane Mcarter – President; Finch – Cath Anderson/ Karen Bryson – Executive Producers; Edward Pontifex – Production House Producer.
Cinematographer: Jeremy Rouse
Production Designer: Enzo Iacono
Offline editor: Jack Hutchings – The Butchery
Final Grade: Edel Rafferty – Method Studios
Online editor: Jon Holmes – The Refinery
Music Supervision: Karl Richter – Level Two Music
Sound Design – Flagstaff Studios – Paul Le Couteur