It's soon time to pick CB Australian Agency of the Year and NZ Agency of the Year — and also to work out the 2022 CB Creativity/Billings Index (or Hot+Cold Chart), plus the top 10 agencies that make the 2022 CB Hot List.
As far as most agency creative directors (and increasingly, more CEOs and CMOs) on both sides of the Tasman are concerned, CB Agency of the Year is the most coveted of all trade mag titles to win – and where an agency is placed on our annual charts (Last year's chart is pictured above, there are separate charts for NZ, Perth, Brisbane and Adelaide) is critical to many agency's new business performance in the coming year (that's the bit of most interest to CEOs and CMOs!).
You'll be pleased to know it's FREE TO ENTER, unlike the other money-grabbing trade press titles.
Provide all your best work on a USB stick (or email via We Transfer or similar). Please list highlights of the year, including all awards won in 2021, new people, plus accounts won and lost, plus number of staff in a separate doco.
Please only include work that has or will run between January 1 and December 31, 2021.
Even if you feel it's not your year, please send us your best as it is vital to work out where your agency fits on the 2022 CB Creativity/Billings Index, and if your agency makes the 2022 CB Hot List (last year's Hot List is shown below).
Make sure your package arrives at CB by Friday 7 January, 2022.
Post or courier packages to:
Campaign Brief
'Moonraker'
21 CHURCH STREET
BURRAWANG NSW  2577
(If you are a small agency and / or only have a small presentation, you can email or via We Transfer (or similar):  michael@campaignbrief.com)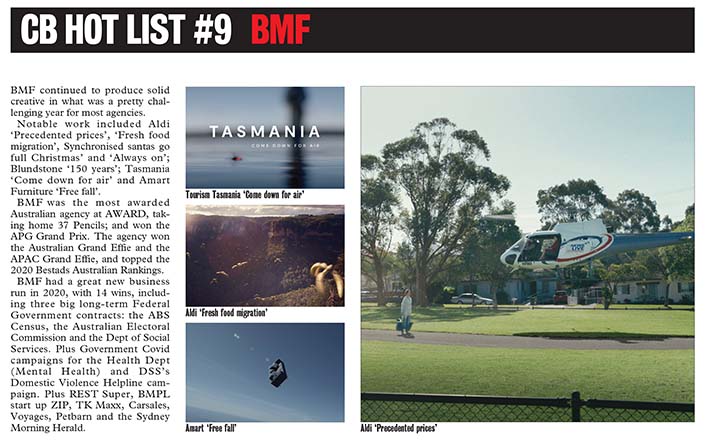 HONOUR ROLL: CB AUSTRALIAN AGENCY OF THE YEAR
1987    The Campaign Palace, Sydney
1988    Saatchi & Saatchi, Sydney
1990    Saatchi & Saatchi, Sydney
1991    The Campaign Palace, Melbourne
1992    Campaign Palace, Sydney
1994    Young & Rubicam, Sydney
1995    Young & Rubicam, Sydney
1996    Clemenger Melbourne
1998    The Campaign Palace, Sydney
1999    Clemenger Melbourne
2000    Leo Burnett, Sydney
2001    M&C Saatchi, Melbourne
2003    Saatchi & Saatchi, Sydney
2004    Saatchi & Saatchi, Sydney
2005    Saatchi & Saatchi, Sydney
2006    George Patterson Y&R, Melbourne
2008    Clemenger BBDO, Melbourne
2009    Clemenger BBDO, Melbourne
2010    Clemenger BBDO, Melbourne
2011    Clemenger BBDO, Melbourne
2012    Clemenger BBDO, Melbourne
2013    McCann, Melbourne
2014    Clemenger BBDO, Melbourne
2015    The Monkeys, Sydney
2016    Clemenger BBDO, Melbourne
2017    The Monkeys, Sydney
2018    DDB Sydney
2019    BMF Sydney
2020    Special Group, Sydney
HONOUR ROLL: CB NEW ZEALAND AGENCY OF THE YEAR
1999    Colenso BBDO Auckland
2000    Saatchi & Saatchi NZ
2001    Colenso BBDO Auckland
2002    Colenso BBDO Auckland
2004    Publicis Mojo Auckland
2005    Saatchi & Saatchi NZ
2006    Saatchi & Saatchi NZ
2008    Colenso BBDO Auckland
2010    DDB New Zealand and Colenso BBDO Auckland
2012    Colenso BBDO Auckland
2014    Colenso BBDO Auckland
2016    Colenso BBDO Auckland
2017    Special Group Auckland
2018     Colenso BBDO Auckland
2019     DDB New Zealand
2020     Special Group New Zealand
TO ADVERTISE IN THIS VERY SPECIAL ISSUE,
CALL MOLLIE MYERSON ON 0414 957 173