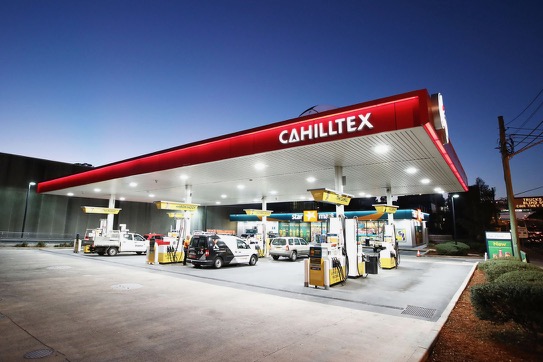 Caltex Australia will transform in to Cahilltex to mark its new partnership with Australia's greatest footballer Tim Cahill ahead of the World Cup next month. Campaign ideation and launch execution was developed and executed by TLA Worldwide, The Zoo Republic and Dashing.
Announced today, the world-first tribute will see five of Caltex's marquee sites across the country given a makeover in honour of the striker, remaining as Cahilltex during May and June.
The partnership with Cahill compliments Caltex Australia's naming-rights partnership with the Socceroos, as well as its broader partnership with the Westfield Matildas and junior national teams.
Today's announcement follows news this morning that Cahill is on track to be selected once again to play for Australia's national team next month, in what will be his fourth-consecutive World Cup campaign.
Speaking from New York, Cahill said he was humbled Caltex Australia has adopted his namesake across its stores to mark his new partnership with the fuel supplier.
Says Cahill: "We're heading into the biggest competition in our sport – and there is nothing better than having an all-Aussie company and the rest of the country right behind our squad.
"I am lucky to have had several defining moments across previous FIFA World Cup campaigns, and I'm looking forward to giving it my all to create more special memories in Russia this year."
Football Federation Australia chief executive David Gallop was on hand to unveil Sydney's CAHILLTEX site in North Ryde today, alongside 2018 Socceroos squad members Jackson Irvine and Josh Brillante.
Socceroos legend Archie Thompson and Westfield Matilda Lisa De Vanna were also present at today's reveal.
Says Richard Pearson, executive general manager – convenience retail, Caltex Australia: "Transforming into Cahilltex for a couple of months shows our support for the Caltex Socceroos during the World Cup. These sites are one of the ways we will celebrate our new partnership with Australia's greatest ever footballer, Tim Cahill.
"Along with many Australians who are big fans of the Caltex Socceroos, we will follow Tim and the team's efforts closely, in my case wearing a Fansie!"
In addition to its new look at five Caltex sites across Australia, Caltex will continue to fuel Aussie fans' support of the Socceroos through its Fansie – an exclusive 2018 Socceroos branded onesie.
Set to be the comfiest piece of kit to wear while watching the matches this winter, the Fansie is the must-have item for Caltex Socceroos fans and sporting fans alike this year.
There will be 5000 Fansies to be won by Caltex Socceroos fans in the lead-up to Russia.
Head to www.caltex.com.au/fansie for competition details.
A range of Caltex Socceroos merchandise will also be available in over 600 Caltex sites nationwide.
Caltex has been the naming rights partner of the Caltex Socceroos since 2016.