Over 40 of Melbourne's top creatives, creative directors, and the MADC Committee gathered at Hell studios last night for the MADC + One Club's Portfolio Night with 43 promising young up-and-comers. The worldwide initiative is aimed at fostering juniors' transition into the industry.
Hosted by the MADC and sponsored by Hell Studios, the evening gave aspiring creatives the chance to network with and receive feedback from some of Melbourne's best.
The grand prize, an All Star trip to One Club in NYC to work on a global brief, was won by Cale Berry and Will Fox, 3rd year students of the RMIT Advertising course.
The winners were chosen by a "Super Jury" drawn randomly on the night, which comprised of Jake Barrow, ECD at VMLY&R Melbourne, Sarah Vincenzini, creative director at Marmalade, and Amy Hollier, ECD at BWM Dentsu.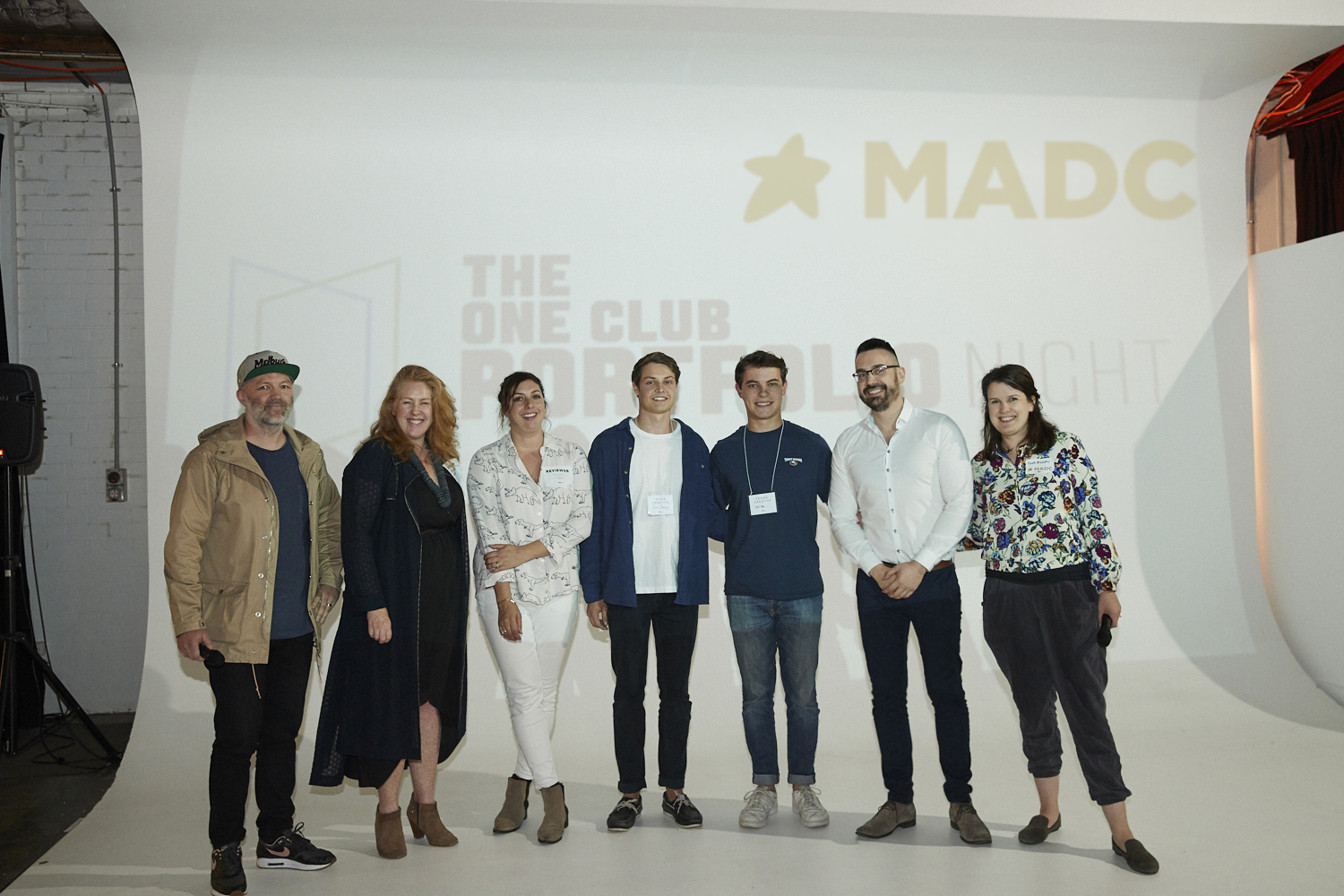 Says Barrow: "There were great ideas in so many folios, but what made the winning book stand out was the fact it contained great idea after great idea after great idea."
Overall, the reviewers were impressed by the calibre and tenacity of students and juniors showcasing their work.
Says Adrian Bosich, president of MADC: "It's great to see Melbourne's top creatives come together to help elevate the next generation of advertising professionals. For the juniors, the learning around sharing your work and being open to feedback – no matter what stage your idea is at – is utterly valuable in this industry. It's how we learn the difference between good work, and utterly envy-inducing brilliant work."
Pat Baron, Australia's representative on the One Club board and CCO of McCann Australia said a heartfelt thanks to all MADC supporting agencies, the committee and organisers for orchestrating the event, and Hell studios for putting on a truly unforgettable night.
MADC wishes to acknowledge and thank the following senior creatives, creative directors and the MADC Committee members, who generously donated their time and knowledge, and without whom the event would not have been possible.
Aaron Lipson, McCann
Adrian Bosich, AIRBAG & MADC
Alex Fenton, Fenton Stephens
Amy Hollier, BWM Dentsu
Andrew Crook, Bellwether
Chris Ellis, Cummins & Partners & MADC
Damian Royce, Havas Worldwide
David Ponce de Leon, Ogilvy
Ed Howley, By All Means & MADC
Elle Bullen, SDWM & MADC
Emma Hill, M&C Saatchi
Emma Park, Isobar
Frank Trobbiani, Moose Toys
Garret Fitzgerald, WhiteGrey
George Freckleton, AJF Partnership
Glen Dickson, CHE Proximity
Glenn Dalton, Hard Hat
Heath Collins, Cummins & Partners
Jake Barrow, VMLY&R
James Wills, VMLY&R
Jess Lilley, Leo Burnett
Jess Wheeler, Fenton Stephens
Joe Hill, WhiteGrey
Josh Murrell, Ogilvy
Joshua Stephens, AJF Partnership
Julie Poulter, Moose Toys
Lauren Doolan, AJF Partnership
Matt Lawson, Deloitte Digital
Mel Stevens, AJF Partnership
Michael Mulcahy, GTB
Michael Punton, Special Group
Michelle Walsh, Leo Burnett
Nick Jamieson, Taboo
Nick McDonald, A3 Recruitment & MADC
Nicky Finlay, Hell Studios & MADC
Robyn Bergmann, VMLY&R
Ryan Purcell, BWM Dentsu
Sarah Vincenzini, Marmalade
Sharon Condy, Ogilvy
Toby Cummings, By All Means
Tom Wenborn, Thinkerbell
Tony Prysten, MADC
Tracy Proposch, Hogarth & MADC
Keep up to date with MADC news here.