Burger King's global Chief Marketing Officer Fernando Machado took to the stage last week at Creativefest 2019 in The Philippines. It was a presentation that is a must view for all client marketers and agency executives and creatives.
Machado put forward the case for clients and agencies to be braver and take risks as the worst thing that can happen is nothing. Be afraid – but do it. As he explained if you make a mistake people move on very quickly. If you don't take risks then all you are doing is helping the market leader in your category get stronger.
Machado has the credentials to back it up from a long career at Unilever steering the Dove business (think Dove Real Beauty Sketches) and the past 5 years at Burger King as global CMO. Since he signed on, Burger King has been named Client of the Year at D&AD in 2016 and Creative Marketer of the Year in Cannes in 2017. Machado was also recognized by Adweek as Grand Brand Genius twice – once for Burger King and once for Dove.
Over the past four years at at the Cannes Lions Festival of Creativity Burger King has won an amazing 94 Lions, compared to just 2 Lions for the four years prior to this. Sales wise, Burger King is experiencing large growth, enjoying double-digit growth for two of these past four years and close to double-digit growth for the other two.
Machado's excellent presentation covered 5 key tips to marketers and agencies.
#1  Understand your brand
#2  Create a great brief (one line brief is best)
#3  Let the idea grow (every idea is a baby Lion that needs to be loved)
#4  The biggest risk is not taking any risk
#5  One team
WATCH MACHADO'S FULL PRESENTATION ON YOUTUBE
WATCH MACHADO'S FULL PRESENTATION ON FACEBOOK
Campaigns that Machado talks about in his presentation include a commercial that was running the year before he joined Burger King that featured Aerosmith front man Steven Tyler. This was running a couple of years after the highs of their hugely awarded "Whopper Freakout" campaign from CP&B, which Machado still consideres to be one of Burger King's very best campaigns.
"5 years ago we were running average campaigns like this Steven Tyler commercial. I hate this with a passion. It makes me want to throw up in my mouth!" Machado stated on stage.
He says this commercial and others featuring David Beckham and Jay Leno, have nothing to do with the Burger King brand. Burger King went from the "best campaign ever in Whopper Freakout which is very real and believable to this Steven Tyler/David Beckham shit!"
Machado's message to marketers in the audience was the need to take risks to stand out as it's a very competitive market that we all work in. He makes the point that Burger King is outspent by at least 4 other competitive brands in the market.
"I've never met a marketer who has said to me 'my market is super easy and not competitive at all," said Machado. "Standing out is my dollar multiplier. Everything I do needs to stand out. If I play by the rules of the game, I don't stand out. If I do what everyone else is doing – it might make me feel very comfortable – but I'm not going to stand out. And if I don't stand out the one that wins is the brand that's at the top. If I run generic campaigns like the Chicken Strips one that uses Steven Tyler and no one associated my brand to this then all I'm doing is a service to the category. When you are just doing a service to the category and not your brand then the brand that benefits the most is the brand that is top of mind and invests the most. So if you are just running generic campaigns your market leading competitor will like it.
"So if you are an underdog like me (Burger King), I have very little to lose. So my advertising has to be quintessentially Burger King, which doesn't just mean slapping a big logo on the ad – I need to run campaigns that when people see them they think 'only Burger King could have done that'," said Machado.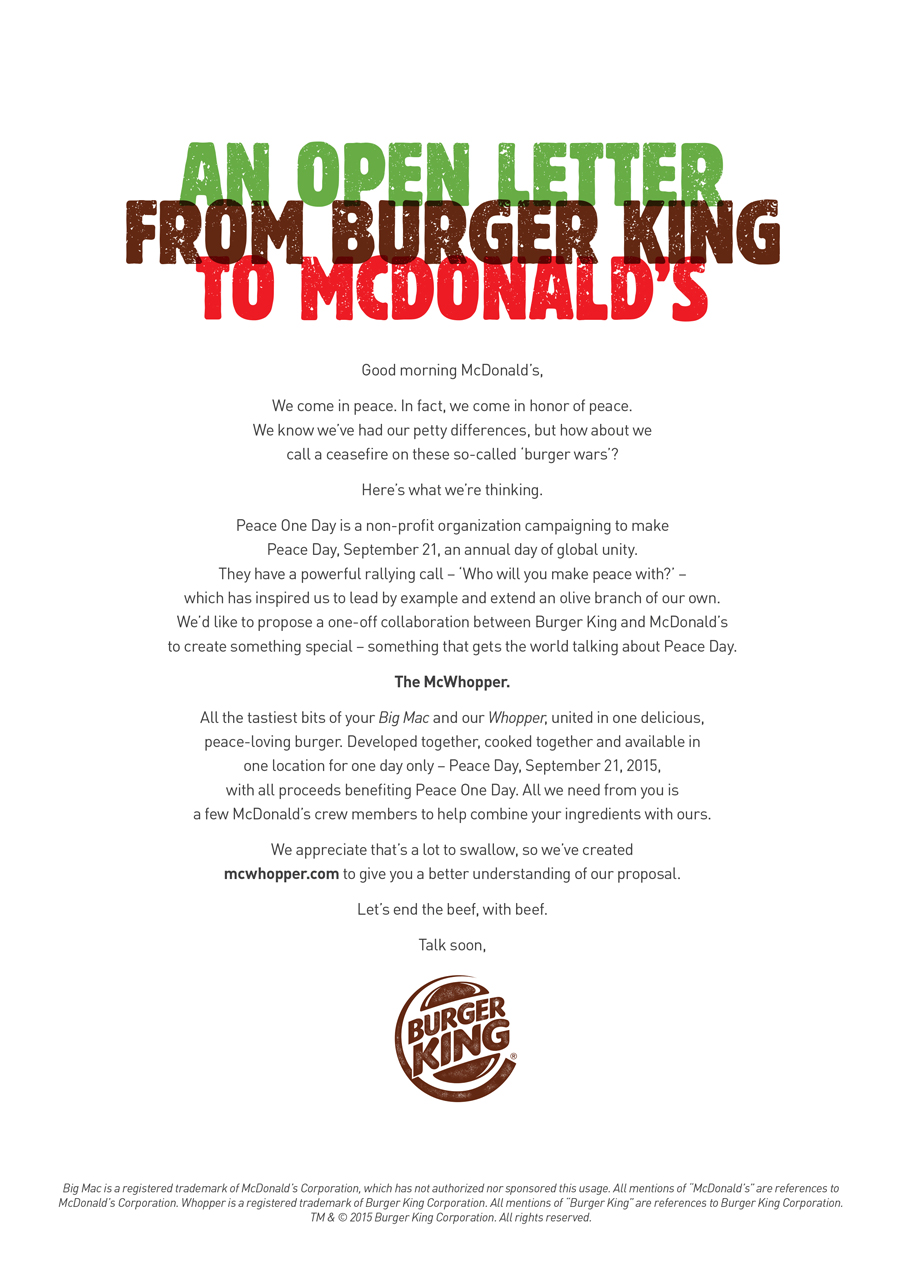 View other campaigns that Machado highlights in his presentation:
EAT LIKE ANDY WARHOL SUPER BOWL
Machado is also a frequent user of print campaigns and has enjoyed great success with them over the past few years.
He believes if you going to run print and poster campaigns they should have great "stopping power".
"People don't care about print ads so you need to make something that's relevant to make people pay attention," said Machado. "This also means I don't have to pay for a large media plan with a thousand billboards – I can do much less as it's going to cut through."
He also stresses that print can also become digital by being spread and shared around the world on social media, thus greatly increasing the reach of a good print campaign. This proved very much the case with Burger King's "Car Crashes" print campaign which went viral all over the world. The ads show real car crashes that have occurred at real Burger King stores in the US and promote the company's "Leave it to us" home delivery service.
See the "Car Crashes", the "Burning Stores" and "Scary Clown" print campaigns below.