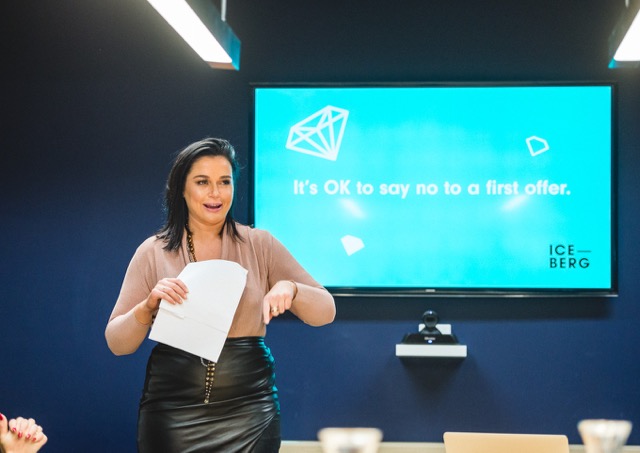 Following her sold out event earlier this year, Agency Iceberg founder Anna O'Dea is again teaming up with Miss Collective to deliver Negotiate Your Worth, a career negotiation workshop on Tuesday, October 18 2016.
Did you know that the majority of female job seekers in Australia accept the first number presented to them when considering a salary offer? And that the majority of male job seekers never do? It's this startling statistic that O'Dea is looking to change – fast.
Negotiate Your Worth with Anna O'Dea
Date: Tuesday 18 October, 2016
Time: 6:30pm – 8:30pm (Arrive at 6pm for a prompt start at 6:30pm)
Address: Gravity, Level 13, 114 Williams St, Melbourne
Says O'Dea: "Knowing how to discuss benefits, bonus structures, flexible working hours and even equity options is something that is often overlooked by employees looking to secure a role that will work with their lifestyle and long term career goals. By clearly and confidently articulating the value you bring to a business, supporting your statements with examples of impressive deliverables and asking for what you want, employees are in a better position to negotiate a positive outcome.
"A manifestation of gendered and perception disadvantages also sees women earning less across the board", says O'Dea, and this is heightened by the fact that many women don't negotiate come salary discussion or pay review time.
Continues O'Dea: "Many women find themselves at a disadvantage and wage gap after years of saying yes to the first number presented to them. It's staggering the number of women who don't question an offer, even when it's far less than what they truly deserve. Men are socialised to ask for the biggest number; women are taught to be grateful for any number presented their way."
Says Steph Webster, co-founder of Miss Collective: "It's such a key topic that our women want more exposure to, it's one of the most asked about topics. We're thrilled to be able to pair up with Anna and her extensive experience in our industry, to help our audience level up and start asking for what they're worth."
In the two-hour workshop, O'Dea will share her own experiences of negotiating packages for hundreds of men and women in every stage of their career, from your first job, to management, to negotiating C-suite packages.
O'Dea has counselled hundreds of applicants through tricky negotiations, from salary and non-monetary perks and even has a dedicated series, Leading Ladies, which profiles senior women in the marketing, digital and communications industry who share tactical tips on negotiation.
This workshop is open to both men and women and is a collaboration with Miss Collective.