UPDATED TO INCLUDE THE COMMERCIAL: Screen legend and Oscar-award winning actor Al Pacino stars in a print and television campaign for Vittoria, Australia's No.1 pure coffee brand, in what is his first ever product endorsement in his career.
The television campaign was directed by Academy Award Winner Barry Levinson, best-known for films such as Rain Man, Good Morning Vietnam, Wag the Dog and Sleepers and produced by RSA, the production company owned by Ridley Scott. Celebrity photographer Brigitte Lacombe, whose work has appeared in Vanity Fair, The New Yorker and The New York Times Magazine who has photographed the likes of Barack Obama, the Dalai Lama and Bob Dylan, was engaged to shoot the print campaign.
"We're incredibly proud and honoured that Al Pacino has agreed to starin a commercial for Vittoria. What's even more incredible is this isthe first time the star of Godfather, Scent of a Woman and Scarface hasagreed to endorse a product," said Les Schirato, CEO of VittoriaCoffee, the 100% family owned Australian company. "The fact that Pacinois from an Italian migrant background – just like our family -makes himfeel like a true ambassador for our brand."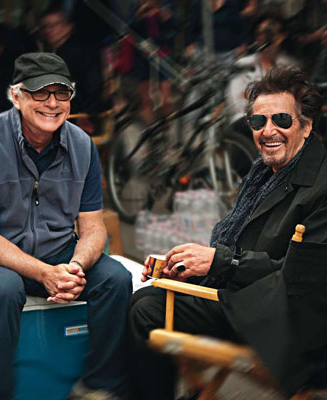 All the creative – from the television script to the printadvertisements – has been developed in-house at Vittoria. Thecommercials were filmed in New York City in May.
"We've been roasting coffee for over fifty years and have become thebiggest pure coffee company in Australia. We sell the equivalent of 1.6million cups of coffee a day. We wanted to celebrate this success byworking with some of the most successful artists in the world to createour campaign."
Levinson (far left) joined the project at the suggestion of Pacino, who recentlyworked with the director on the television drama You Don't Know Jack,which recently aired in the United States.
"We are proud that as an Australian business, Vittoria coffee has beenable to secure one of the world's leading stars to endorse our brand.We compete against the world's largest food companies and are stillAustralia's no 1 in the pure coffee market." says Schirato.