CB Exclusive – Yesterday the newly elected Adelaide City Council lord mayor, Martin Haese launched a new augmented reality (AR) app, Christmas in the City. The app was conceived and developed by animation and visual effects studio, Resin.
The app provides AR experiences across the city for families to experience throughout the Christmas period. Users download the app, available for free on Apple and Android devices and uses the GPS enabled map to locate markers all over the city.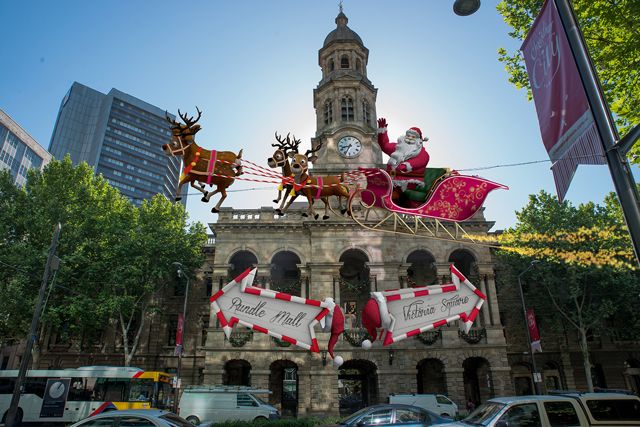 Once activated the markers reveal a number of animations of Santa and his reindeers preparing for Christmas. A key marker is located at the large Christmas Tree installation at Victoria Square then via Town Hall where they can be seen flying down King William Street to Rundle Mall where the fun continues. Along the walk trail, markers can be found on the pavement where people may find a Reindeer waiting for the next bus and many more with over 40 separate locations making this installation a first for its scale from Resin's research.
The Adelaide City Council will have elves at key locations with iPads to help visitors and enhance the experience for young children. There is also a competition to win an iPad by sharing your images on social media with #ChristmasADL @Nova919. A full map of where all the locations are can also be found at the website as well as links to download the free app.
In 2013 Resin developed, Two Left Feet a new type of book app. The app was awarded best new app in the Australian Mobile Awards. Since its release Resin has continued to innovate in this emerging space of AR and now VR with the Oculus Rift.
Christmas in the City sees quite a few advances since the development of Two Left Feet which were both developed on the Unity platform. The AR will now continue even if the device loses the track and the Town Hall marker once activated switches to using the devices gyroscope to provide a really fluid experience as the user tracks Santa and his Reindeer flying down King William Street.
Resin has also given consideration to how people might want to stage photos with their children with Santa and the Reindeers and provided a way to make this easier within the app.
Says Lincoln Wogan, co-founder and managing director, Resin: "Since the release of Two Left Feet every time we present to a group the response has been over-whelming. We've known for sometime now we are on to something with enormous potential. By now taking these concepts into an environmental experience like we've done with the Christmas in the City app we anticipate more businesses will start to recognise the potential to use this technology to create new types of customer experiences."