Insurance comparison service Compare the Market has launched its first chapter of its new campaign to the nation via VCCP Sydney.
The TVC – 'Possum Problems' – sees Australia's favourite meerkats run for their lives after a case of mistaken identity. While enjoying some time at home Aleks and Sergei receive an uninvited guest, Barry the possum catcher, who failing to properly compare, is adamant they are possums and not meerkats. Barry's mistake forces poor Aleks and Sergei to escape into the Australian bush, where they find themselves lost.
Says Louisse Brady, general manager of brand, Compare the Market: "By bringing our Meerkats to life through this fun story line, we aim to drive a positive emotional connection to our brand and connect Australians to the benefits of comparison. We wanted to take a more light-hearted approach with this new TV campaign to show consumers that no matter what you're looking to purchase or switch to, it pays to compare."
Paul Sharp, creative director for VCCP Sydney, explains that 'Possum Problems' has progressed since Aleks and Sergei moved into Brushtail Place and got to know their neighbours and new home. The fun and games has come to a grinding halt for the meerkats as a new visitor makes a big disruption to their new, Aussie lifestyle.
Says Sharp: "We saw Aleks and Sergei settle into their new neighbourhood and surroundings in the last two campaigns, but now we have our furry duo facing their latest adversary – a possum catcher! The campaign continues with the adventures or rather misadventures that follow, all leading up to how things can go wrong when you don't compare your options from the beginning. Keep an eye out for future episodes as we have a very special guest making an appearance too."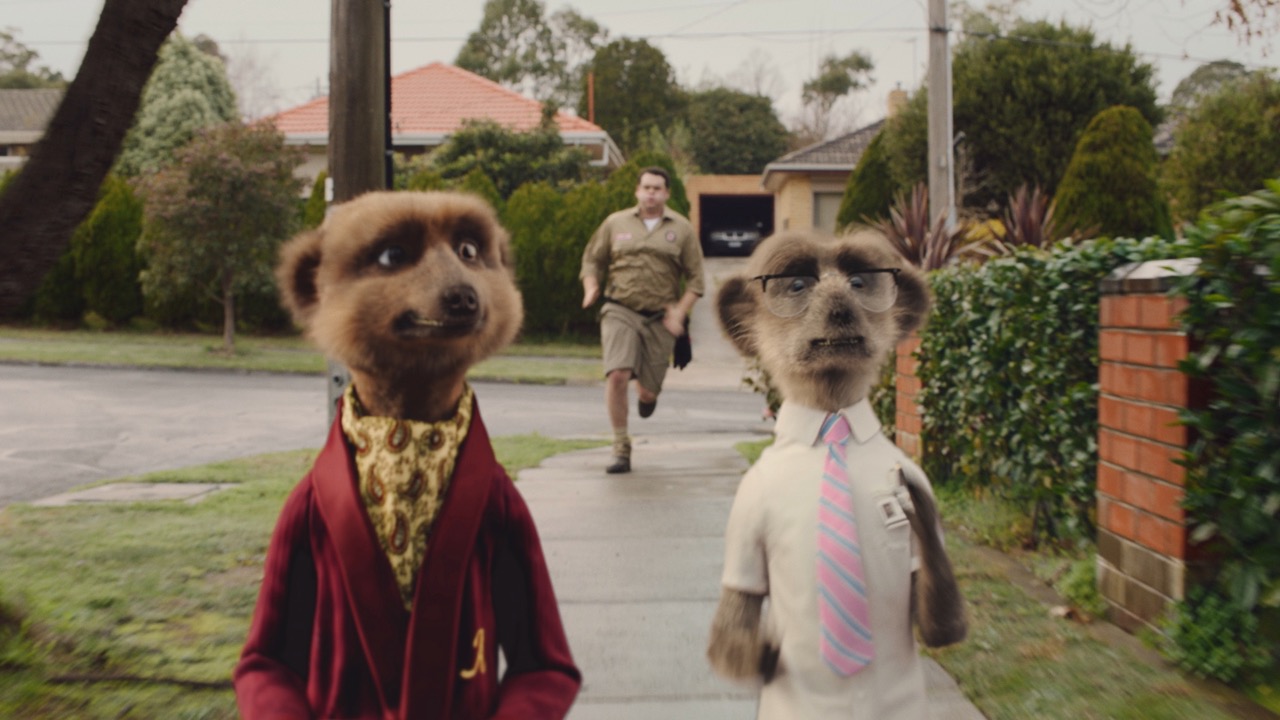 It's never too late for Aussies to compare what's out there across their various financial products and save when it comes to their household expenditure. Whether its car costs, energy plans, health insurance or even searching for the cheapest fuel prices, Compare the Market is there to make comparing insurance, and saving on household products quick and Simples. With over 1,000 products to choose from, across more than 100 brands, people have a wealth of variety right at their fingertips. Make sure you're getting the most value out of your cover and give us a visit today – don't make the same mistake as Barry.
Agency: VCCP Sydney
Creative Directors: Gary Dawson and Paul Sharp
Senior Account Director: Edward Hughes
Senior Account Manager: Daniel Wood
Producer: Sue Hind
Executive Planning Director: Kim Feitelberg
Creative team: Dane van Veen & Kate Allan
Production Company: Passion Pictures
Director: Dave Scanlon
EP: Graham Pryor
Producers: Anna Cunnington & Megan Plane
Live Action Producer: Viv Jaspers
Client: CTM
Acting CMO: Christopher Catchpoole
Brand GM: Louisse Brady
Brand and Campaign Manager: Karen Gear
Brand and campaign specialist: Carolina Perez Rebolledo