Volkswagen and DDB continue legacy of 'thinking small' with a dealership you can visit from the comfort of your own phone.
Volkswagen and DDB Sydney have created the World's Smallest Dealership to promote the automotive's new small SUV range and subsequent AR offering, letting consumers 'try on' and buy a car wherever they are.
The 28cm tall activation is an exact 3D replica of a real dealership, even featuring screens running Volkswagen TV ads, and is fitted with QR codes for customers to scan with their phones, leading them to a dedicated website designed for virtual tours using augmented reality.
More Australians are turning to online shopping than ever before, with this year's events being a catalyst for more shoppers to go online for a wider range of things including big ticket items that have traditionally been sold in person, including cars. Volkswagen Australia has seen these trends first-hand, having sold over 460 cars online to the value of $36 million since April, leading to the launch of the World's Smallest Dealership, an activation that highlights the need for more choice and convenience in the way Aussies shop for cars.
The new AR experience, designed by Tribal in partnership with Virtual Immersive, transforms the way people can shop for cars. Paired with an audio tour, it uses the most advanced graphics for realism while letting Aussies choose their T-Roc or T-Cross, colour and play with what it looks like in their driveway, at the beach or even the supermarket, before diving inside to look at the interiors, all from the palm of their hands.
Says Jason Bradshaw, chief customer and marketing officer, Volkswagen: "While many people wouldn't think that Aussies are prepared to buy a car online, the success of our online store proves they're embracing online shopping for essentials and big-ticket items. The launch of Volkswagen's smallest dealership and AR experience is all about making buying a car online easier and more convenient so Aussies can find, test out and then customise the perfect car for them."
Says David Jackson, creative director, DDB: "The launch of these two small SUVs was huge news for Volkswagen, so when COVID threw us a curveball just before launch, we had to get creative. Even with gradual reopenings happening, the usual trip to the dealership mightn't be something people are comfortable with, so the Smallest Dealership has been integral as a way to promote the range and get people experiencing it. The craft of the dealership is breathtaking, it's taken countless hours to pull together, and the effort really shows."
Visit the smallest dealership to check out the AR experience here: http://www.smallestdealership.com.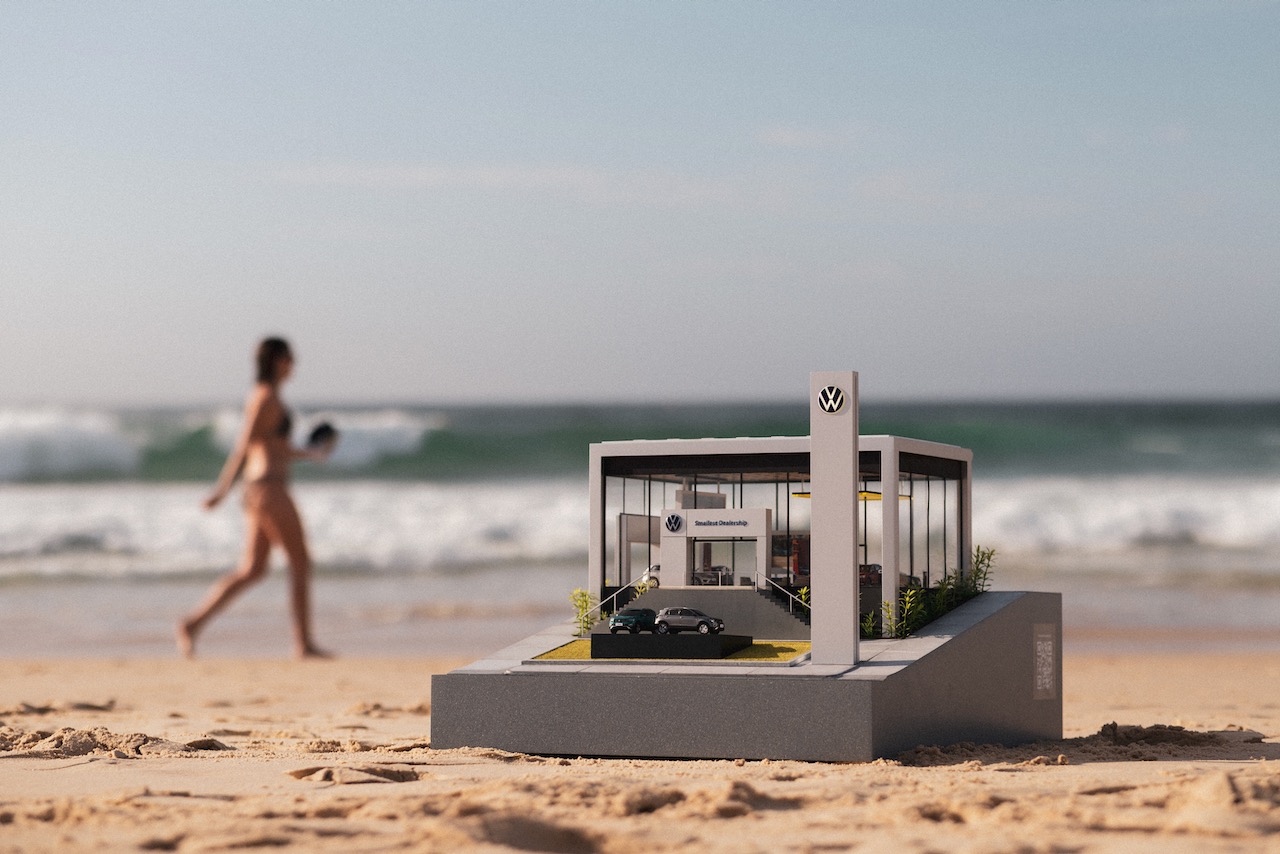 Creative Agency: DDB Sydney
CCO: Ben Welsh
CCO: Tara Ford
Creative Director: David Jackson
Creative Director: Tim Woolford
Creative Director: Tommy Cehak
Senior Producer: Cushla Morton
Managing Partner: Mandy Whatson
Senior Business Manager: Alexandra Lawton
Sound Engineer: Andy Stewart
Editor: Silas Baisch
Post Producer: Emily Wood
Photography: Elaine Li
Head of Integrated Production: Renata Barbosa
Tribal:
Managing Director: David Rennie
Group Business Director: Kenneth McLeod
Account Executive: Alasdair Kay
Design Director: Fabien Clemency
Designer: Andy Lee
Designer: Vincent Salinos
AR Build: Virtual Immersive
Model Build: Yippee Ki Yay
PR: Mango Communications