The industry will be saddened to hear of the passing of Tony Prysten – also fondly known as TP, Tone and Kahoona.
Tony studied art & design, followed by Business Marketing at Monash and had a BA Industrial Design. He co-founded Igloo in 1994 with Andrew Englisch, business partner and dear friend. Their partnership lasted an incredible 20 years. Their friendship, to this day.
He headed up Digital and Experience at McCann from 2014 to 2018 and was responsible for helping the agency win two silver lions and one bronze for their 'Made Possible' work for Melbourne Uni. And 'Second Most Awarded Digital Campaign' for MIFF.
In 2018, inspired by his love of cycling, he launched his own brand of skincare for cyclists, 'finde.cc'
Tony always gave back to this industry and mentored many a junior. He was a lecturer and member of the Industry Adviser Group at Tractor Design School for 2 years.
And he Served on the MADC committee for an incredible nine years, from 2012 to 2021, including a secretarial role.
In fact, Tony is largely responsible for saving the MADC in 2013. The club was in debt and the award show was no more. Tony had recently joined the committee and his impact was felt from the word go. He came up with 'MADC Presents' series and the MADC 'After Party' (a revival of the much loved awards). Both events were almost solely responsible for getting the club out of trouble and back on the map, so the MADC will always be indebted to Tony.
Tony was Head of Design at Telmy Market Research from 2017 to 2022 and most recently, General Manager Design and Digital at Yellowfin where he helped lead the company to three consecutive years as 'Visionary' in the Gartner MQ and most recently, 100% acquisition by US software giant Idera Inc.
Tony underwent an unbelievable health challenge six years ago with lifesaving heart surgery, followed by another procedure a year later when they discovered metal had been left in his heart. He was told he had a 50/50 chance of survival. He not only survived, he thrived, with a newfound lust for life.
In Tony's own words from a linkedin post on his birthday last year: "No big life changing advice here, just a little nod to say – if you were to drop off the face of the earth right now, what would be the last thing you would have shared or said? Hopefully it motivates you, like it does me, to think again when considering saying something negative, putting others down or having a crack at someone. In other words, it nudges me to just try to be a little nicer. We can all do that."
We say, Tony – you really couldn't have been much nicer. You made great stuff happen, with a megawatt smile and a can-do attitude. You were a truly fabulous bloke that will be missed by many, especially your family who loved you dearly.
A private service will be held on Monday 2nd May followed by a wake at 1pm at the Elwood sailing club. All who knew Tone are welcome to attend the wake.
Prysten is survived by his wife Annie and sons Ollie and Noah.
To show your support, and in lieu of flowers, please make a donation to Waves of Wellness here.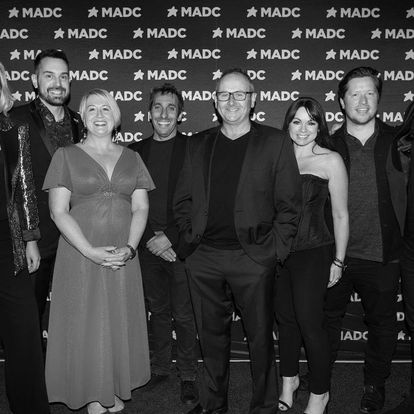 (An early IGLOO PR shot with Tony, Andrew Englisch, Aaron Lee and David Marinelli)