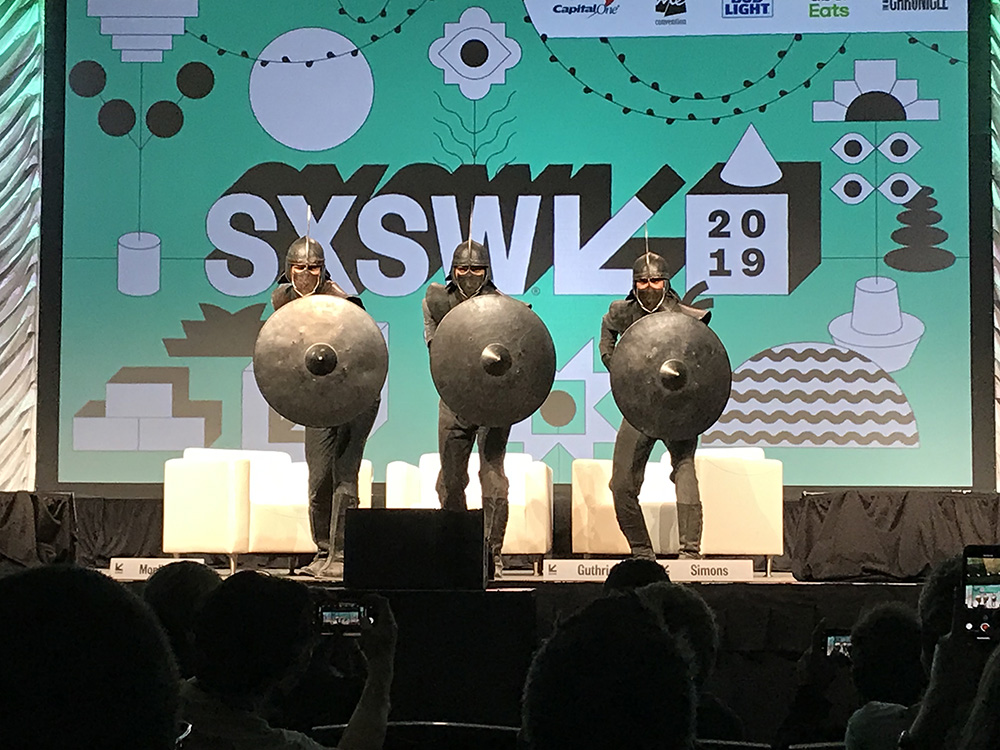 The Brand Agency Perth's MD Nick Bayes is in Austin, Texas for the 2019 edition of the South by South-west (SXSW) conference and reports for Campaign Brief.
My initial impression of SXSW is that it's frenetic, friendly and fascinating in equal measures. Having never been to the festival or Austin before, I didn't really know what to expect. After a couple of days it has left me impressed, if a little overwhelmed.
Designed to help creative people achieve their goals, the choice of stimulation is mind-boggling; exhibitions, live music, panel sessions, lectures, networking, film premieres, workshops, book narrations and signings, art programs, mentor sessions, brand experiences, etc. In any given timeslot there can be up to 30 events taking place. It's actually pretty difficult to choose the one for you without suffering FOMO all day. But choose I did.
Brené Brown has spent the past two decades studying courage, vulnerability, shame, and empathy and is the author of five #1 New York Times best sellers. At SXSW she spoke about hate, bullshit, courage, belonging and the fact that everyone 'knows everything' and it's ok to say that 'I don't know'. If you've never read anything by Brené, buy her book Dare to Lead, which is about courage and leadership, you'll be pleased you did. She managed to get the audience up on their feet singing (including me), which is no mean feat.
Brené was simply brilliant and the peak of my first day, but next was a lecture by Rohit Bhargava, apparently one of the world's most entertaining and original thinkers on marketing disruption. His presentation on the seven non-obvious trends changing the future wasn't all necessarily non-obvious, but thought provoking nonetheless. The key trend that struck a chord with me was 'Enterprise Empathy' – businesses making money out of adopting an empathetic approach. Examples given were Tesco UK's slow checkout for dementia sufferers and braille on shampoo and conditioner bottles so blind people know which one they are using.
Day two started with a session on behavioural economics and how it can drive effective advertising. Nothing particularly new there, but good to know we are a little bit ahead of the game with the appointment of Behavioural Economist Dr Mark Hurlstone to our team.
Then onto a discussion entitled 'The Next Uncanny Valley: Interaction in XR', about the opportunity to redefine how people engage and interact with machines, and each other. For those of us who don't know what Uncanny Valley is (I didn't know, I'm channeling Brené here!), it is apparently when something is nearly photo realistic in VR, but so close that it doesn't feel quite right – it's a little creepy. Next stop, the Sony WoW Studio, where uncannily the Uncanny Valley theme continued, but this time in a discussion on whether it's silly to care about a robot. The USA is seemingly different to Japan as people are less keen to interact with humanoid robots but happier to do so if they are animal form, as long as they don't look too much like animals.
The day then took a political turn. A great panel discussion between the CMOs of Patagonia, Airbnb and Lyft around how brands have the permission of their consumers to advocate for relevant political policies and change. And are left wondering why, when brands don't. All these organisations have helped bring about change in ways that are authentic to their brand purpose and all of them have their purpose running through the veins of their company. Their collective view was that brands haven't necessarily become more political. But politicians now use the tool of brands to get their message out. The political and business worlds have merged – just look at Trump.
US congressional representative and activist Alexandria Ocasio-Cortez, aka AOC, wrapped up the day. After queuing for an hour, it felt like waiting for a concert to begin. Politics is now entertainment. She was definitely worth the wait.
It's really easy to believe when caught up in the SXSW tornado that Austin and the views of the people here reflect the whole country. That's obviously not the case but today at SXSW it felt like it. AOC was on friendly turf and the crowd lapped up her every word. She's a politician with a refreshing personality and the soundbites to match. Whilst I don't pretend to understand all the intricacies of America's political environment, if there had been an AOC flag handy I would have been waving it and leading the chant. She was truly inspirational and as a young (29yrs old), female, Latino politician we can only wish that she inspires more of America's disassociated youth to stand up and bring about change. As AOC said herself when asked what young American women of colour should do to enter politics, "Stop navigating the systems of power, instead build you own power".
Stirring stuff, now on to tomorrow.