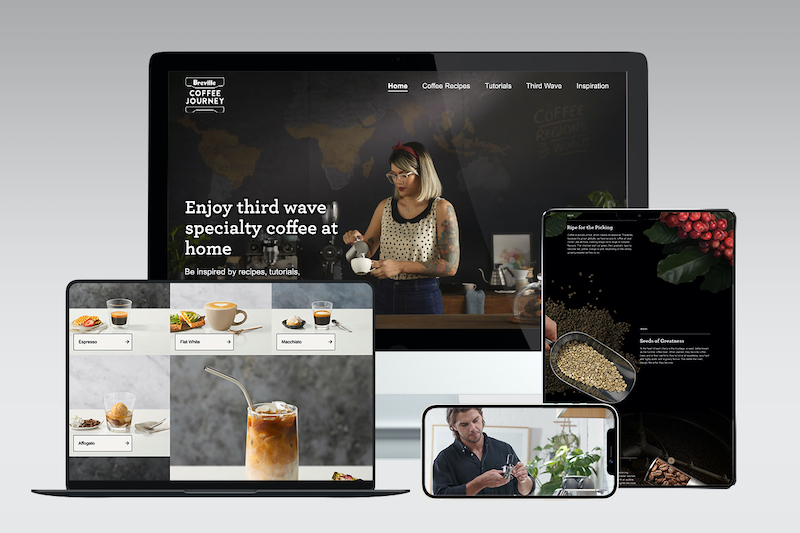 Breville and brand experience agency GHO Sydney have launched the Breville Coffee Journey, a premium, immersive platform for Third Wave Specialty Coffee. The site is a comprehensive educational resource for lovers of coffee.
Featuring three leading Aussie baristas, Breville Coffee Journey includes coffee tutorials, recipes, inspirational articles, and an immersive journey through the entire coffee-making process, from bean to cup.
Says Noel Burchill, head of global brand strategy and advertising: "The Breville Coffee Journey is a premium digital experience designed to take the consumer on an engaging and informative exploration of third wave specialty coffee.
"Whether you are a novice or a coffee connoisseur, a lover of espresso or drip, we've harnessed the incredible talent from within Breville and the industry to deliver a one stop platform everyone can enjoy. We're proud of the work we've done in partnership with GHO Sydney and thank them for their commitment and shared vision for the project."
Design and content production was done in-house by GHO, with build handled by Breville's in-house digital team. The experience features 25 full-length videos, multiple stills and interactive pages.
Says Hamish Stewart, creative partner, GHO Sydney: "Breville is a brand Aussies know and love, so it's been a privilege to work with them to help tell their story to the world. Our research showed that people were searching for a comprehensive coffee resource, and it's been great to partner with Breville to deliver for this growing market.
"The project is a great demonstration of our capability at GHO, from design sprints, to prototyping and customer research, to UX/UI and content production. We're so proud of the result."
Based in Sydney, Australia, Breville is an ASX-listed manufacturer of premium home appliances, trading in over 70 countries worldwide. The company makes a range of award winning, innovative appliances, including best-selling coffee machines, like the Barista Express and the Oracle Touch.