There were several agencies that were included in the final shortlist for Campaign Brief Agency of the Year. In the lead-up to the AOY announcement, we profile those that made the 2021 CB Hot List…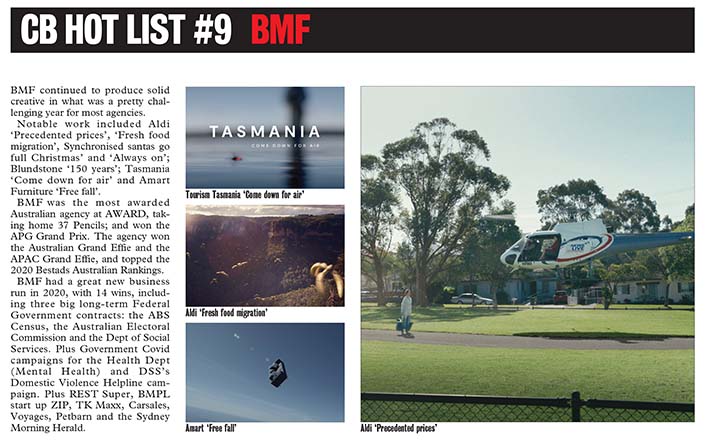 BMF continued to produce solid creative in what was a pretty challenging year for most agencies.
Notable work included Aldi 'Precedented prices', 'Fresh food migration', Synchronised santas go full Christmas' and 'Always on'; Blundstone '150 years'; Tasmania 'Come down for air' and Amart Furniture 'Free fall'.
BMF was the most awarded Australian agency at AWARD, taking home 37 Pencils; and won the APG Grand Prix. The agency won the Australian Grand Effie and the APAC Grand Effie, and topped the 2020 Bestads Australian Rankings.
BMF had a great new business run in 2020, with 14 wins, including three big long-term Federal Government contracts: the ABS Census, the Australian Electoral Commission and the Dept of Social Services. Plus Government Covid campaigns for the Health Dept (Mental Health) and DSS's Domestic Violence Helpline campaign. Plus REST Super, BMPL start up ZIP, TK Maxx, Carsales, Voyages, Petbarn and the Sydney Morning Herald.