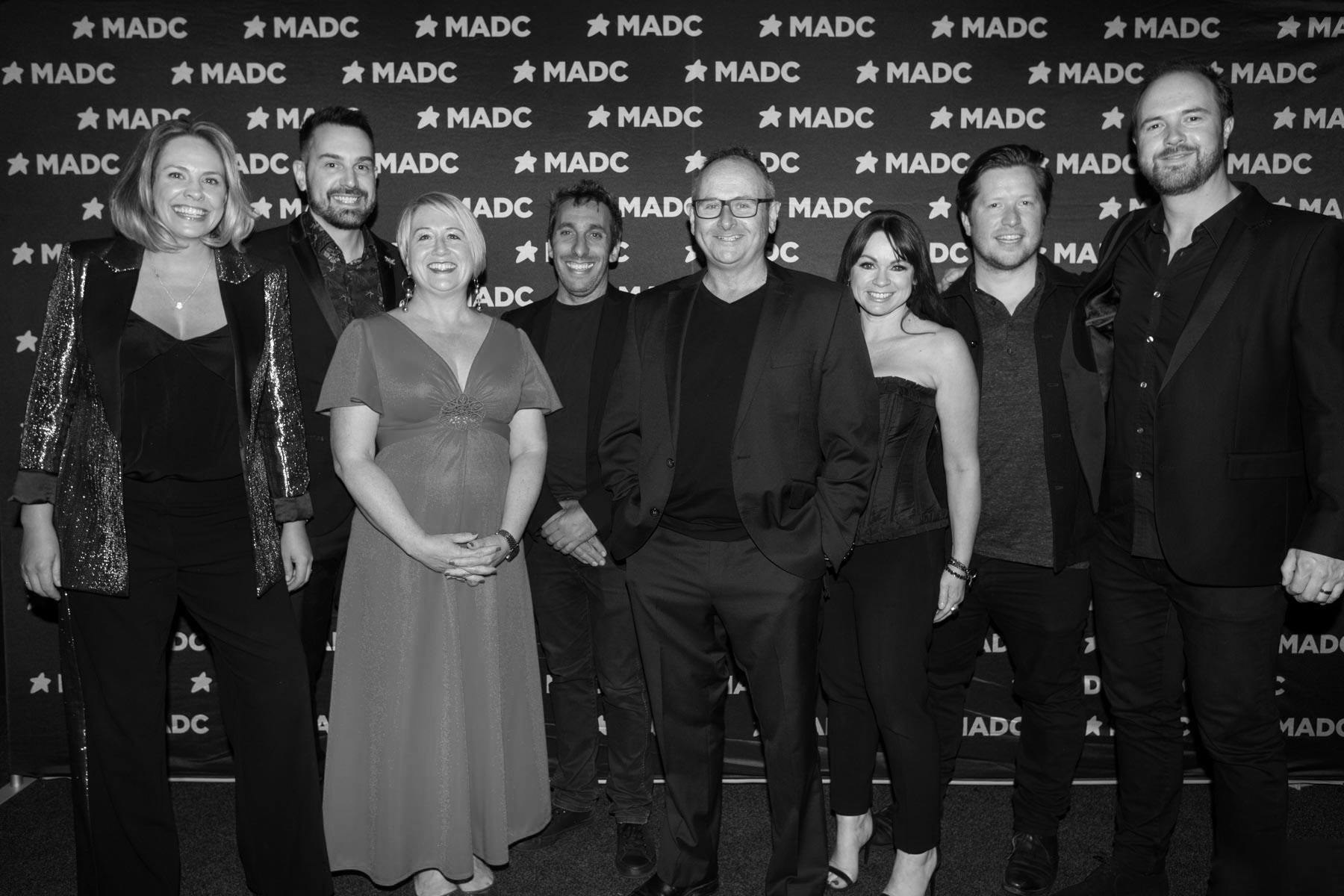 The MADC is entering its next phase of planned succession, as transition plans commence for MADC 2021. The MADC committee will be renewed, with MADC Supporter agencies being tapped for new candidates, and a new President elected also.
AIRBAG's Adrian Bosich (pictured below right with Matt Eastwood global CCO McCann Health) has been MADC President for two years, and has spent three years on the committee overall.
Says Bosich: "It's been such a great honour to help shape the MADC, and I'm proud to reflect back on our achievements over the past few years. We restored the MADC Awards to bring back the camaraderie of an end-of-year bash and celebrate the year's finest work. We adopted two initiatives for up-and-coming creatives – One Club Portfolio Night and London International Awards Creative LIAisons – sending them to NY and Vegas to learn from industry leaders and work on global briefs. We maintained the MADC Presents talk series, and sponsored the launch of post-Covid PEP Magazine to celebrate Melbourne creativity. In an uber-meta moment, we created the films 'Meet Grant', and 'Long Live Creativity' to promote our award show, which went on to win at award shows. Advertising is about renewal and change, and as proud as I am of our achievements, I can't wait to see what the new MADC leadership brings to the club.
"I would like to thank everyone on the committee – with no staff, every MADC initiative is organised by these good folk giving up their time, ideas and resources. I'd like to acknowledge: Chris Ellis (Cummins & Partners) – Chris has been integral to the creative briefs behind the MADC Showcases, including being a driving force behind the promotional films.
"Nicky Finlay (Hell Studios) – Nicky gave a lot of organisational might behind many of the MADC events, most prominently in turning over Hell Studios to host the One Club Portfolio Night.
"Ed Howley (By All Means) – Ed's drive and passion for creativity has been front and centre on every project in the past two years, and particularly shone through with the MADC Award judging organisation and through many of MADC's creative briefs.
"Nick McDonald (A3 Recruitment) – Nick has served on the committee for eight years, and helped stabilise the club years ago, ensuring it lived to celebrate another day, and was instrumental in bringing One Club Portfolio Night to the club.
"Annie Price (Wunderman Thompson) – Annie has served on the committee for six years, and her passion towards MADC's junior initiatives and MADC history has been vital to its success.
"Tony Prysten (Yellowfin) – Tony has served on the committee for seven years, has been a strong force in keeping the club together in recent years, and was instrumental in the MADC Presents series, and the club's social and digital presence.
"Tracy Proposch (Freelance Producer) – Tracy is the longest serving member of the MADC Committee ever, with ten years under the belt. Her organisational guidance has ensured the club transition to its modern day structure."
The Club would like to recognise it could not do any of this without the support of the MADC member agencies, whose membership was renewed gratis in 2020, given the tumultuous year it has been:
AJF Partnership
BWM Dentsu
By All Means
CHE Proximity
Cummins&Partners
DDB
Deloitte
Fenton Stephens
Havas Melbourne
Leo Burnett
M&C Saatchi
Marmalade
McCann
Monkeys
Ogilvy
Royals
Saatchi & Saatchi
SDWM
Taboo
TBWA
Thinkerbell
VMLY&R
WhiteGrey
Wunderman Thompson